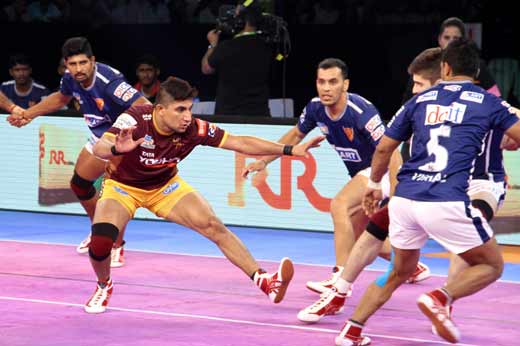 A rampant UP Yoddha dished out a hammering as they inflicted a 45-16 defeat on Dabang Delhi in the Inter Zone Challenge Week of Vivo Pro Kabaddi Season 5. It was Delhi's seventh straight loss as they remained winless on their home turf. NitinTomar scored 15 raid points for UP Yoddha and Sagar Krishna got a high five in the defence. Rohit Balliyan scored seven points for Dabang Delhi.
UP Yoddha are third in Zone B with 48 points after 17 matches whereas Dabang Delhi's wretched form continued as they remain bottom of the table in Zone A with 31 points from 17 matches.
RohitBalliyan opened Dabang Delhi's account with a raid point in the third minute. UP Yoddha scored a tackle point in the fourth minute and NitinTomar scored two points as they led 4-1. UP Yoddha made it 6-2 in the eight minute as they capitalized on Dabang Delhi's defensive errors. Abolfazl got a raid point in the ninth minute as Dabang Delhi trailed 3-7. UP Yoddha inflicted the first all out of the match in 14th minute to lead 15-6.
NitinTomar was on a roll in the first half as he scored 10 points to give UP Yoddha 20-10 lead in the first half. MerajSheykh failed to get going to Dabang Delhi and couldn't score a single point in the first half.
The second half bean followed a similar script to the first half as UP Yoddha scored four points in six minutes compared to Delhi's single point. UP Yoddha inflicted an all out in the 27th minute to extend the lead to 28-11.Dabang Delhi were being steamrolled by UP Yoddha as they could score just one point in the first nine minutes of second half.
It was a one-sided affair as UP Yoddha were ruthless and opened a 21-point lead with nine minutes to go. In the 33rd minute UP Yoddha inflicted another all out to lead 38-11. MerajSheykh finally opened his account late in the second half but it was an out and out disaster for Delhi in the second half. Such was UP Yoddha's domination that they only allowed Dabang Delhi to score just six points in the second half. It was the biggest victory margin recorded by any team in season 5 of Pro Kabaddi as UP Yoddha won 45-16.
TELUGU TITANS BEAT JAIPUR PINK PANTHERS
Telugu Titans rode on an outstanding raiding performance by Rahul Chaudhari to beat Jaipur Pink Panthers 41-34 in Inter Zone Challenge Week of Vivo Pro Kabaddi Season 5. Chaudhari scored XX points to lead the Titans to a much-needed victory. Pawan Kumar (17 points) was the lone performer for Jaipur Pink Panthers as their star players Manjeet Chhillar (1 point) and Jasvir Singh (0 points) flopped miserably. Jaipur's defence was another reason for their defeat as they managed just three tackle points in the match.
Telugu Titans are fourth with 38 points after 18 matches in Zone B. Jaipur Pink Panthers are fifth in Zone A with 38 points from 13 matches.
The first five minutes of the match saw both teams trade raid points with Rahul Chaudhari scoring for Telugu Titans and Pawan Kumar for Jaipur Pink Panthers to level the match at 4-4. Telugu Titans shifted gears in the next few minutes with Rahul Chaudhari inflicting damage on Jaipur Pink Panthers. Chaudhari scored with four consecutive raids as Telugu Titans inflicted an all out in the 11th minute to lead 15-5. Jaipur Pink Panthers were looking in disarray as their bigwigs Manjeet Chhillar and Jasvir Singh failed to score a single point in 15 minutes.
It was a one-man show for Jaipur as Pawan Kumar scored seven of their eight points in 15 minutes as they trailed 8-20. No other Jaipur played scored a single point for their team in the first 17 minutes. Rahul Chaudhari was ably supported by Nilesh Salunke in the first half for Telugu Titans. Pawan Kumar scored with a two-point raid in the 17th minute as Jaipur Pink Panthers trailed 10-21. Rahul Chaudhari attained a super 10 in the 19th minute as Telugu Titans ended the first half leading 23-11.
Manjeet Chihillar scored his first tackle point of the night in the 22nd minute as Jaipur Pink Panthers trailed 12-26. The second half saw Jaipur getting their act together as Pawan Kumar continued to score raid points. In the 28th minute, Pawan Kumar scored a two-point raid and Jaipur Pink Panthers followed it up with an all out in the next minute to trail 25-31.
Rahul Chaudhari scored two points in two minutes to give Telugu Titans 34-26 lead after 32 minutes. Telugu Titans kept their composure in the latter part of second half and avoided silly mistakes which has been costing them in the season.