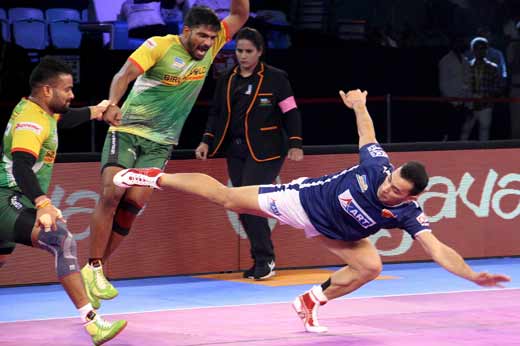 Dabang Delhi made a valiant attempt of a comeback but fell short as they lost 34-36 against Patna Pirates in Inter Zone Challenge Week of Vivo Pro Kabaddi Season 5. Dabang Delhi trailed by 12 points in the early stages but staged a fight back but Patna showed experience and composure to held on to victory. PardeepNarwal scored 14 points to continue his excellent form in the season. Dabang Delhi's wretched home form continued as they crashed to fourth successive defeat in front of their home crowd.
Patna Pirates remain top of the table in Zone B with 65 points from 18 matches. Dabang Delhi are still bottom of the table with 31 points after 16 matches.
Patna Pirates began the first half in rampant manner as PardeepNarwal scored with a four-point raid in the first minute. Patna were relentless as they inflicted an all out in the third minute to lead 10-0. Dabang Delhi scored their first point in the 5th minute to trail 1-11.
Dabang Delhi got points in board as MerajSheykh and RohitBaliyan got raid points as they trailed 6-13 in the 13th minute. Patna Pirates forced a super tackle in the 14th minute to lead 15-6. Dabang Delhi came back in the match as they inflicted an all out in the 16th minute to trail 11-16. Dabang Delhi recovered after a disastrous start as they ended the first half tailing 13-18. PardeepNarwal scored seven raid points for Patna Pirates.
Abolfazl scored with a two-point raid in the 23rd minute as Dabang Delhi trailed 16-20. PardeepNarwal attained yet another super 10 as Patna Pirates led 21-18 after 34 minutes. Dabang Delhi took the lead for the first time in the match in the 27th minute as they inflicted an all out.
Patna Pirates came back to lead 27-24 but Dabang Delhi forced a super tackle to cut the lead to one point in the 32nd minute. Dabang Delhi forced another super tackle in the 33rd minute to level the match at 28-28. Every time Patna took lead Delhi forced super tackles as they forced a third in five minutes to tie at 30-30 in the 35th minute.
Patna Pirates inflicted an all out in the 38th minute to lead 36-31. Patna Pirates held on their nerve in the last few minutes to win 36-34.
TAMIL THALAIVAS EDGE GUJARAT FORTUNEGIANTS 35-34
Ajay Thakur produced a remarkable performance in the last five minutes as Tamil Thalaivas pulled off a miraculous victory to beat Gujarat Fortunegiants 35-34. Till the last couple of minutes, Thalaivas didn't look like winning the match but Thakur scored three raid points in the last minute to lead his team to victory. Thakur ended with 13 points and was supported by Prapanjan who contributed nine points. Sachin scored 11 points for Gujarat Fortunegiants.
Gujarat Fortunegiants are second in Zone A with 58 points from 16 matches. Tamil Thalaivas are bottom of the table in Zone B with 32 points from 13 matches.
The first few minutes of the match saw teams exchanging raid and tackle points. Prapanjan's super raid in the fourth minute gave Tamil Thalaivas 5-3 lead. Sachin scored two points in two minutes to give Gujarat Fortunegiants 6-5 lead after six minutes. It was one-way traffic in the next couple of minutes as Gujarat piled on the points and inflicted an all out in the 11th minute to lead 13-6.
Ajay Thakur got into the act for Tamil Thalaivas and scored two points in two minutes as they trailed 9-16 in the 15th minute. Both teams' defence had a quiet first half as they managed just five tackle points. Ajay Thakur and Prapanjan were the main scorers for Tamil Thalaivas in the first half. For Gujarat Fortunegiants, Sachin led the scoring charts in the first as half as they led 20-13 at the end of the first half.
Gujarat Fortunegiants began the second half strongly and scored three points in three minutes to lead 23-13 after 23 minutes. Another all out was inflicted by Gujarat in the 25th minute as they led 27-15. Tamil Thalaivas never looked like threatening Gujarat's domination in the second half. All they could do was to reduce the defeat margin. After 30 minutes it was 30-20 in Gujarat Fortunegiants' favour as they were on course to a comfortable victory.
Tamil Thalaivas turned the match on its head in the last five minutes. They were trailing by massive ten points as the score was 33-23 in Gujarat's favour. Ajay Thakur scored two raid points in two minutes as Thalaivas trailed 28-34 in the 38th minute. An all out was inflicted in the same minute as Thalaivas trailed 31-34. It was Ajay Thakur who scored three raid points in the last minute as Thalaivas won 35-34