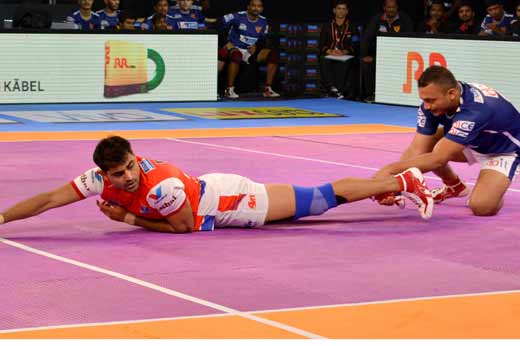 Dabang Delhi's home woes continued as they suffered a third successive defeat and lost 24-42 against Haryana Steelers in VIVO Pro Kabaddi Season 5. Haryana made a strong start and never looked back as they showed their opponents why they are being considered one of the favourites. Deepak Kumar Dahiya (6 points) and Prashanth Rai (5 points) got the raid points whereas Rakesh Singh(7 points) and Surender Nada (5 points) were ruthless in the defence. For Delhi, a disappointing campaign got worse as they suffered 10th defeat of the season.
Haryana Steelers are now top of the table in Zone A with 59 points from 18 matches. Dabang Delhi are bottom of the pile with 30 points from 15 matches.
After a quiet opening two minutes, Haryana Steelers scored a raid and tackle point to lead 2-0. Rohit Balliyan scored the first point for Dabang Delhi in the third minute. Haryana Steelers ramped up the pressure early in the match as they inflicted an all out in the sixth minute to lead 9-3. Rohit Balliyan scored two more points as Dabang Delhi trailed 5-11 after nine minutes.
Haryana Steelers defence and attack combined well in the first half as they picked up points with ease. Deepak Kumar Dahiya was picking apart Dabang Delhi defence as Haryana inflicted another all out to lead 19-7 after 14 minutes. It took 15 minutes for Dabang Delhi to score their first tackle point. Prashanth Kumar Rai scored with a two-point raid as Haryana Steelers led 22-8 after 18 minutes. Dabang Delhi looked hapless in the first half as they trailed 9-23 at the break.
Dabang Delhi forced a super tackle in the 22nd minute to trail 12-27. Meraj Sheykh had a disappointing game for Dabang Delhi as in the first 25 minutes he could score just one point. Haryana asserted their supremacy in the 28th minute as they inflicted an all out to lead 32-15.
Haryana Steelers made easy work of their opponents in the last five minutes as well. All Dabang Delhi could do was restore some respectability to the scoreline as they tried to reduce the deficit. But Haryana Steelers were relentless in their pursuit as they crushed Dabang Delhi 42-24.
Tamil Thalaivas stun Bengal Warriors 33-32
Ajay Thakur scored two points in the dying seconds as Tamil Thalaivas scored a sensational 33-32 victory over Bengal Warriors. Thalaivas were looking down and out but Thakur scored seven of his eight raid points in the last five minutes to turn the match on its head. Maninder Singh scored 13 points for Bengal Warriors but his effort went in vain. C Arun was a rock in the defence for Tamil Thalaivas as he scored eight tackle points. It was just the third win for the much-beleagured Tamil Thalaivas whereas Bengal Warriors missed the chance to go top of the table.
Tamil Thalaivas are still bottom of the table in Zone B with 27 points after 12 matches. Bengal Warriors are second with 59 points after 18 matches.
Jang Kun Lee scored two points as Bengal Warriors led 2-1. Prapanjan scored a raid point as Tamil Thalaivas leveled the match at 2-2. Bengal Warriors defence had a slow start to the match as they struggled to get going and failed to score a single point in the first eight minutes. But they forced a super tackle in the 9th minute to tie the match at 7-7.
Ajay Thakur made a successful raid in the 11th minute as Tamil Thalaivas led 10-8. Thalaivas inflicted an all out in the 11th minute as they led 13-9. Deepak Narwal scored three points with a super raid in the 14th minute as Bengal Warriors trailed 12-14. Tamil Thalaivas forced a super tackle in the 16th minute to lead 16-13. Maninder scored a raid point in the 20th minute as Tamil Thalaivas led 18-15 at the end of the break.
Tamil Thalaivas forced a super tackle in the 23rd minute to maintain their three-point lead. Bengal Warriors tried their best to reduce the deficit but faltered every time they had a chance to level the match. Tamil Thalaivas steadily scored points as they led 24-20 after 29 minutes.
Maninder Singh came up with a brilliant super raid in the 31st minute to give Bengal Warriors 26-24 lead. Ajay Thakur scored tried to get Thalaivas back in the match as he scored three raid points in three minutes as his team trailed 29-30 after 36 minutes. Maninder Singh scored a two-point raid in the 38th minute as Bengal Warriors led 32-29. Thakur scored two more points as Thalaivas trailed 31-32 in the 40th minute. Ajay Thakur scored two points in the dying minutes to win the match for Tamil Thalaivas.