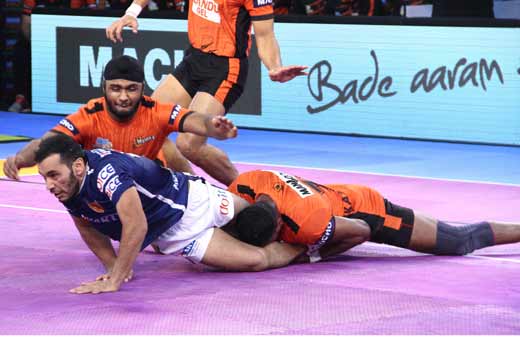 A terrific second half performance by Puneri Paltan saw them beat Dabang Delhi 34-29 in VIVO Pro Kabaddi Season 5.Two super tackles and two all outs in the space of 10 minutes saw Puneri Paltan dismantle Dabang Delhi. Deepak Niwas Hooda led from the front as he scored 10 points whereas two defenders Girish Ernak and Monu got high fives. Dabang Delhi suffered their ninth defeat of the campaign.
Puneri Paltan climbed up the table with the victory and are third in Zone B with 47 points from 12 matches. Delhi's woes continued as they remain rooted to the bottom of the table with 30 points from 13 matches.
Dabang Delhi were quick out of the blocks and led 4-1 after three minutes. PuneriPaltan scored two points in a minute as they trailed 3-4 after five minutes. Sandeep Narwal scored a raid point in the 8th minute as Puneri Paltan trailed6-8.
Dabang Delhi led 11-7 after 16 minutes as they continued to score raid and tackle points. Meraj Sheykh scored two points with a raid as Dabang Delhi led 13-7 in the 18th minute. Puneri Paltan defence were having an off night as they could score just two points in the first half. Dabang Delhi led 14-8 at the end of the first half with Meraj Sheykh scoring five points.
Puneri Paltan began the second half with a bang and scored 11 points in seven minutes to turn the match on its head. They forced a super tackle in the 21st minute to trail 11-14 and followed it up with another super tackle to trail 13-1 after 22 minutes. Rajesh Mondal scored four points with two raids as Puneri Paltan led 18-15 in the 27th minute. Dabang Delhi were in disarray as they suffered an all out to trail 15-21.
Deepak Niwas Hooda scored with a super raid as he got four points to give Puneri Paltan 26-15 in the 28th minute. Puneri Paltan inflicted another all out in the 30th minute to lead 30-16. Rohit Balliyan scored with a two-point raid as Delhi trailed 18-30. Puneri Paltan were cruising to a comfortable win as they led 33-20 after 34 minutes.
With less than five minutes to Puneri Paltan led 33-22 as Dabang Delhi tried to reduce the margin of defeat. Abolfazl scored three points in two minutes as Dabang Delhi inflicted an all out to trail 27-33 in the 37th minute. Dabang Delhi got a tackle point in the 40th minute to cut the lead to five points. It was too little too late for Delhi as Puneri Paltan won 34-29.
Bengal Warriors edge out Bengaluru Bulls 33-29
Bengal Warriors survived a second half scare as they beat Bengaluru Bulls 33-29 in VIVO Pro Kabaddi Season 5 here in New Delhi. Maninder Singh made a crucial super raid in the dying minutes of the match as Warriors held on to a narrow win. Bengal Warriors defenders Ravinder Pahal and and Mahender Singh scored five points each but were let down by raiders Rohit and Ajay Kumar. Harish Naik scored 11 raid points for Bengaluru Bulls. Surjeet Singh scored six points whereas Maninder ended with nine points for Bengal Warriors.
Bengal Warriors are second in Zone B with 58 points from 17 matches. Bengaluru Bulls remain fourth with 34 points from 16 matches.
Bengal Warriors made a flying start to lead 5-1 as Deepak Narwal scored three points in four minutes. Bengaluru Bulls raiders couldn't get into the match as they scoredjust one point to trail 4-8 in the seventh minute. Bengal Warriors inflicted an all out in the eighth minute to lead 11-4.
Harish Naik scored with a two-point raid and Rohit Kumar scored his first point as Bengaluru Bulls trailed 8-14 after 12 minutes. Bengal Warriors were looking comfortable as they ended the first half leading 18-10.
Bengaluru Bulls trailed 13-20 after 25 minutes as they tried to stage a comeback in the second half. Maninder Singh got two points with a raid in the 26th minute to give Bengal Warriors 22-14 lead. Bengaluru's two main raiders Rohit Kumar and Ajay Kumar were struggling to get points on the board.
With 30 minutes played Bengal Warriors held a 10-point lead and were on course to an easy victory. Harish Naik was the lone source of raid points for Bulls as he scored three more to trail 18-26. Bengaluru Bulls sparked back into life as they reduced Bengal Warriors to just one man and trailed 20-26 after 35 minutes.
Bengaluru Bulls inflicted an all out in the 36th minute to trail 23-26 as Ravinder Pahal attained a high five. Maninder Singh scored with a raid as Bengal Warriors led 27-24 after 37 minutes. Harish Naik scored another raid point as Bengaluru Bulls reduced the lead to just one point in the 38th minute. Maninder Singh turned the match in Bengal Warriors' favour with a super raid in the 39th minute. arish Naik attained a super 10 as he scored two more points as Bulls trailed 29-32 with less than a minute left on the clock.