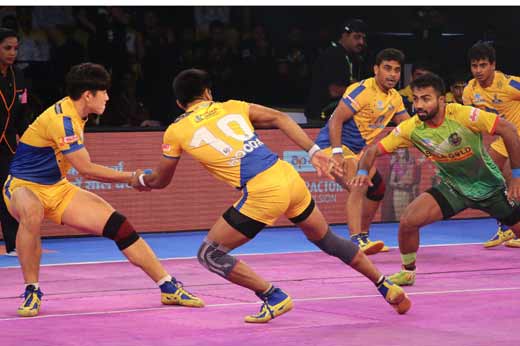 Patna Pirates beat Tamil Thalaivas 41-39 in a closely fought encounter in Vivo Pro Kabaddi season 5. Monu Goyat scored 12 points for Patna Pirates to lead Patna Pirates to a win. Pradeep Narwal had a quiet game by his high standards and scored nine points for Patna. Ajay Thakur scored 11 points for Tamil Thalaivas.
Prapanjan opened Thalaivas account with touch point on the first raid. PardeepNanrwal opened his team's account with a raid point. MonuGoyat was sent to the bench by the Thalaivas as they led 4-1.
Prapanjan scores a raid point as Thalaivas opened up a five-point lead. Vijay scored two points in three raids as Patna cut the lead to two points in the 10th minute.
Thalaivas led 11-8 as Ajay Thakur came up with a stunning super tackle as he affects an all-out and wins four points in the process. Thivakaran is taken out in the last raid of the half and Thalaivas lead 18-13 at the break.
MonuGoyat starts the second half on a stunning note as he wins a touch point as well as a raid point. Ajay Thakur then wins a touch point for his team. PardeepNarwal takes out two defenders to win two points. Ajay Thakur and PardeepNarwal is having a fight of their own as they are winning raid points for their respective teams for fun. PardeepNarwal then affects a super raid and wins four points to level the match at 22-22.
Ajay Thakur is then taken out by the Patna defenders while MonuGoyat wins a point for them. Prapanjan wins a point for Thalaivas and then they level the match once again by taking down PardeepNarwal. Monu wins a touch point and also a bonus point in Patna's next raid. While the Patna defender bring down Prapanjan again to lead 27-24.
Ajay Thakur finally wins a point but Patna are on a roll as they win another three points courtesy of MonuGoyat wo comes up with a super raid. While the defenders bring down Thivakaran as they win another three points. Monu is then caught during his raid while Prapanjan wins a touch point during Thalaivas' raid. Pardeep and Ajay score points of their respevtive raids as Patna lead 34-29 with 10 mins to go.
Pardeep is finally taken out by the defenders while in his do or die raid, Prapanjan is taken out by the Patna defenders after the time out. Monu comes up with yet another two point raid for Patna. Dong Geon Lee then wins his first points of the day by winning a touch as well as a bonus point during Thalaivas raid. And following Pardeep's empty raid, Lee again wins a touch point. Patna now lead 39-35 and they kept their composure to win 41-39 in the end.
GUJARAT FORTUNEGIANTS BEAT U MUMBA 45-23
Gujarat Fortunegiants handed out a 45-23 thrashing to U Mumba in Vivo Pro Kabaddi season 5. Ranjit Chandran scores 11 raid points whereas FazelAtrachali contributed six Tackle points to lead Gujarat to a comfortable victory.
Gujarat Fortunegiants led 4-1 after four minutes as Sachin scored a raid point. U Mumba forced a super Tackle in the sixth minute to level the match at 5-5. U Mumba forced another super Tackle in the 9th minute to lead 8-7. A super raid in the 11th minute gave Gujarat 10-9 lead. Gujarat inflicted an all out in the 13th minute to lead 13-10.
Sachin scored with a two-point raid in the 18th minute as Gujarat led 18-12. Another all out was inflicted in the 20th minute as they led 24-12 at the end of the first half.
The second half saw Gujarat dominate the proceedings. Ranjit scored raid points with ease as U Mumba defence struggled to contain Gujarat raiders. Gujarat led 41-20 after 37 minutes. U Mumba were struggling to match Gujarat's intensity throughout the match.
Gujarat ran out comfortable winners as they wrapped the match at 45-23.