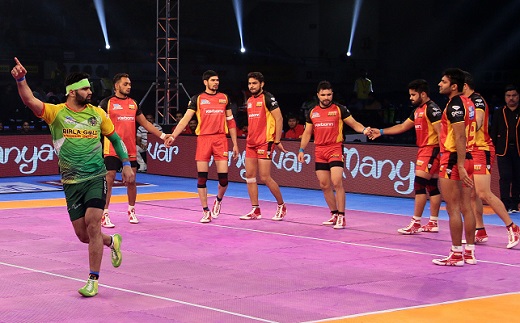 Pardeep Narwal became the first man to reach 200-point figure in Vivo Pro Kabaddi League season 5 as Patna Pirates beat Bengaluru Bulls 36-32. Narwal ended up with 11 points and became the second highest scoring raider in the history of Pro Kabaddi League. Bengaluru Bulls defence had no answer to Narwalor to Monu Goyat who top-scored with 12 raid points. Rohit Kumar was the best player for Bengaluru Bulls as he ended up with 15 points.
Patna Pirates are now top of table in Zone B with 54 points from 15 matches. Bengaluru Bulls remain fifth with 33 points from 15 matches.
Pardeep Narwal opened Patna Pirates' account in the second minute. Bengaluru Bulls had to wait till the fourth minute to get going as Rohit Kumar scored a two-point raid. Patna Pirates led 5-2 in the seventh minute. Pardeep Narwal scored another raid point to give Patna Pirates 8-2 lead in the ninth minute. Rohit scored with a two-point raid as Bengaluru Bulls trailed 5-10 after 11 minutes.
Patna Pirates inflicted an all out in the 12th minute to lead 13-5. Patna Pirates were in cruise control as Monu Goyat and Pardeep Narwal kept picking easy raid points. Patna Pirates led 19-11 at the end of the first half.
Rohit Kumar scored with a raid point in the 22nd minute as Bengaluru Bulls trailed 12-19. Pardeep Narwal made a successful raid in the 24th minute to give Patna Pirates 21-12 lead. Pardeep Narwal extinguished all hopes of Bengaluru's comeback with a super raid in the 25th minute to give Patna 25-13 lead. Narwal reached the landmark figure of 200 points in season five of Pro Kabaddi League.
Patna inflicted an all out in the next minute to lead 29-15. Bengaluru Bulls were struggling to get tackle and raid points as they trailed 17-34 after 33 minutes.
Bengaluru Bulls forced a super tackle in the 34th minute to trail 20-34. Rohit Kumar achieved a super 10 for Bengaluru Bulls as they trailed 22-34. Monu Goyat also reached a super 10 for Patna Pirates as they led 35-22 after 36 minutes.
Bengaluru Bulls inflicted an all out in the 38th minute to trail 28-36. Patna Pirates took their foot off the pedal in the last five minutes but still won the match 36-32.
PUNERI PALTAN BEAT HARYANA STEELERS 37-25
A superb all-round performance by PuneriPaltan saw them register a comfortable 37-25 victory over Haryana Steelers. Sandeep Narwal (nine points), Rajesh Mondal (seven points) were the main contributors but it was a real team effort which led Pune to victory. The PuneriPaltan raiders chipped in with 15 points whereas the defence contributed 17 points. For Haryana, Surjeet Singh was the sole performer as he ended up with 9 raid points.
PuneriPaltan are now third in Zone A with 42 points from 11 matches. Haryana Steelers remain second with 49 points after 16 matches.
PuneriPaltan led 2-0 in the first minute after scoring a raid and tackle point Wazir Singh made a successful raid in the second minute to open Haryana Steelers' account. Both teams were neck and neck after five minutes with score level at 4-4. Rajesh Mondal made a successful raid in the 9th minute to give PuneriPaltan 7-4 lead. Haryana Steelers fought back to make it 7-7 in the 10th minute.
Deepak Hooda made a successful raid in the 17th minute to give PuneriPaltan 10-9 lead. PuneriPaltan inflicted an all out in the 18th minute to lead 16-10. Haryana Steelers went into the break trailing 10-16.
Haryana Steelers scored two points in a minute at the start of the second half to trail 12-17. PuneriPaltan were looking in control of the match as they led 20-13 after 25 minutes. Surjeet Singh scored with a two-point raid as Haryana Steelers trailed 17-22 after 30 minutes. Rajesh Mondal restored PuneriPaltan's seven-point advantage with a two-point raid in the next minute.
PuneriPaltan inflicted an all out in the 35th minute to lead 33-20. Haryana Steelers were looking hapless and completely out of sorts as they couldn't match PuneriPaltan's intensity. Surjeet Singh scored with three successful raids as Haryana reduced the deficit to 24-35 in the 38th minute. PuneriPaltan were the better defensive unit on the night as won the match 37-25.