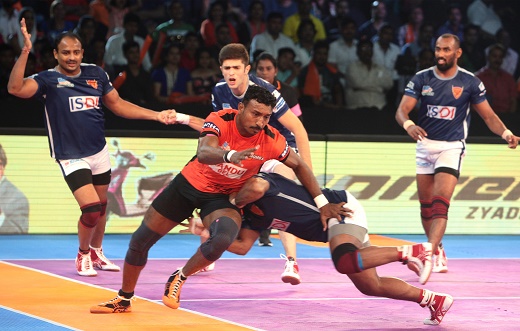 Dabang Delhi held their nerve and survived early onslaught from U Mumba to win 33-32 in the Pro Kabaddi League at DOME@NSCI SVP Stadium, Mumbai on Sunday. Meraj Sheykh led from the front and scored 11 points for Dabang Delhi. U Mumba captain Anup Kumar scored 11 points for his team but they just fell short in the end.
U Mumba started strongly and led 3-0 after three minutes as Kashiling Adake and Anup Kumar scored raid points. Delhi struggled in the opening minutes and scored just one point in four minutes to trail 1-5. Meraj Sheykh scored with a two-point raid in the fifth minute as Dabang Delhi trailed 3-5.
ShrikantJadhav scored with a two-point raid in the seventh minute as U Mumba led 8-4. U Mumba led 9-6 after the first 10 minutes. Dabang Delhi scored five points in the next four minutes to lead 11-10 after 15 minutes.
MerajSheykh was a thorn in U Mumba's side as every time Delhi looked out of sorts, he got them back in the game. Both teams were locked in an intense battle as the match was tied at 17-17 at the end of the first half.
In the second half, both teams were closely fighting as it was 20-20 after 26 minutes.MerajSheykh scored with a raid point as Dabang Delhi forced an all out in the 31st minute to lead 27-22.
It didn't look like U Mumba could mount a comeback but Anup Kumar dragged them into the game. DabangDelhi led 33-29 in the 39th minute. U Mumba scored three points in the last minute but it wasn't enough as they lost 32-33.