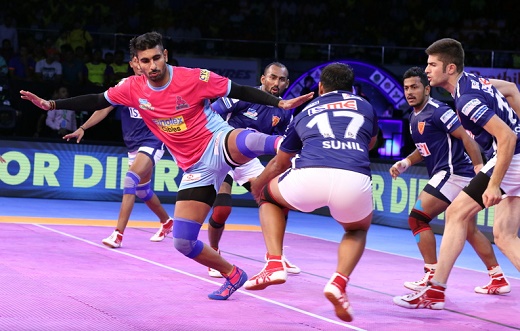 In a thrilling encounter Dabang Delhi narrowly beat Jaipur Pink Panthers 30-26.Dabang Delhi skipper Meraj Sheykh led from the front and marshaled his resources brilliantly as his team began the campaign with a victory. A disappointing second half performance by Jaipur Pink Panthers led to their downfall. Sheykh scored seven points whereas NileshShinde scored a high five in defence.
Dabang Delhi KC opened their account in the second minute with a tackle point and followed it up with a bonus to lead 2-0 after three minutes. Jaipur Pink Panthers had to wait till the fourth minute to score their first point as ManjeetChhillar made a tackle. Selvamani scored a raid point to level the score at 3-3 in the sixth minute.
Dabang Delhi skipper MerajSheykh struggled in the opening minutes of the first half as his team trailed 3-5 after eight minutes. Jasvir scored with a two-point raid in the 10th minute to give Jaipur 7-4 lead. Jasvir scored two more in the next minute as Jaipur Pink Panthers inflicted the first all out of the match to lead 11-4 after 11 minutes.
Dabang Delhi scored with a tackle point in the 14th minute as they trailed 5-14. Delhi raiders struggled in the first half as they managed to score just two points in 15 minutes. MerajSheykh scored his first point in the 19th minute as Dabang Delhi ended the first half trailing 9-16.
Dabang Delhi began the second half with a bang as they inflicted an all out in the 21st minute to trail 13-16. It was all Dabang Delhi in the first five minutes of the second half as they trailed 16-17. Dabang Delhi leveled the match at 18-18 in the 28th minute.
With 10 minutes left in the match, both teams traded two-point raids as Dabang Delhi led 21-20 MerajSheyky scored a raid point to give Dabang Delhi a slender one-point lead after 24 minutes. Dabang Delhi piled on the pressure on Jaipur as they inflicted the second all out to lead 27-21 in 36th minute.
Dabang Delhi held their cool under pressure in the last few minutes of the match and won 30-26.