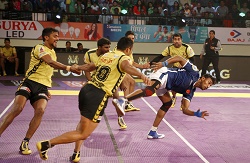 Patna: Telugu Titans produced a formidable all-round performance to defeat Dabang Delhi KC 28-23. Dabang Delhi KC came into the game on a high of beating Patna Pirates but were brought crashing down to earth by Telugu Titans. Nilesh Salunke and Sandeep Dhull were the stand out performers for the Titans in attack and defence.
Telugu Titans remain in sixth position with 19 points from seven games and are just a point behind Bengaluru Bulls and Jaipur Pink Panthers. Dabang Delhi KC are sixth in the table with 14 points from seven games.
Rahul Chaudhry opened Telugu Titans' account with a raid in the 17th minute and their defence followed it up with a point to give them a 2-0 lead. Dabang Delhi scored their first point when SachinShingade tackled Rahul Chaudhry in the 15th minute. Dabang Delhi KC had zero raid points after seven minutes as they trailed 2-3. Selvamani finally scored first raid point in ninth minute as Telugu Titans led 4-3.
Rahul Chaudhry scored two raid points in the 11th minute as Telugu Titans led 7-3. Telugu Titans maintained their four-point lead and led 9-5 with five minutes to go in the first half as Dabang Delhi KC scored only two raid points. Dabang Delhi KC were looking a pale shadow of the team that beat Patna Pirates yesterday as they trailed 7-13 after 18 minutes. Telugu Titans led 14-7 at the end of the first half as their raiders and defenders looked in good form.
Both teams began the second half with a set of empty raids as Dabang Delhi KC raiders struggled to get points on board. It was their defence led by SachinShingade who gathered points as they trailed 11-17 after 25 minutes. Telugu Titans inflicted an all out in the second half and led 23-15 after 31 minutes. In the next five minutes, Telugu Titans scored five points against Delhi's three to lead 25-17 with five minutes left on the clock. SachinShingade and SandeepDhull attained "high five" for Dabang Delhi KC and Telugu Titans respectively.
Telugu Titans continued to score raid points in the last five minutes as they extended their lead to nine points. MerajSheykh spent 20 minutes off the mat and it hurt Dabang Delhi KC the most as they couldn't find any inspiration. NileshSalunke scored seven points for Telugu Titans whereas Rahul Chaudhry had five raid points. KashilingAdake scored a raid point in the last minute as Dabang Delhi KC reduced the deficit to seven points. He then followed it up with another excellent raid to score two points as Delhi trailed 23-28. In the end it wasn't enough as Telugu Titans prevailed 28-23.