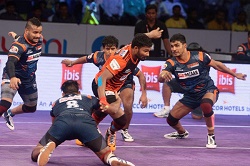 Hyderabad: It was a brilliant display of all the units working together in tandem as U Mumba scripted a picture perfect win over Bengal Warriors, winning 26-18 in their first match in Hyderabad. They move to the second spot on the league table with 16 points from three wins.
The first half began in electric fashion for the Mumbai outfit with some quick raiding from star raider Rishank Devadiga who secured 4 points in the first 5 minutes including a powerful overtake of Bengal Warriors captain Nilesh Shinde in one of his successful raids. It was inevitable with U Mumba setting the pace that the Bengal Warriors were soon to be all out and that happened in the 9th minute with the score 9-3. At this moment, there was complete coordination between all the players on the mat for U Mumba with the corner combination of Jeeva Kumar and Surjeet working smoothly to neutralize the Bengal Warriors attack of Nitin Madane and Shrikant Jadhav.
Despite Rishank getting tackled by former U Mumba defender Vishal Mane, the final raid before half time signalled U Mumba's intent to stick to winning ways. Surjeet Narwal entered the den with the intention of getting U Mumba all out only to get super tackled by Rakesh Kumar along with Jeeva and Surjeet, entering half time with the score 16-9.
The second half started in a similar fashion with U Mumba on the verge of an all-out but somehow always managing to stay on the court with 5 players remaining. It was at half time that coach Bhaskaran brought on Suresu Kumar for Sunil to boost the raiding power for those crucial do-or-die raids. The strategy worked wonders because except for one final raid, in every do-or-die raid that Suresu was sent for, he returned with a point. He also chipped in while defending with a few slips here and there ensuring that Bengal Warriors stayed in the match.
Captain Anup Kumar, who had remained quiet while raiding, chipped in with his classic 'Toe Touch' move and a bonus point to maintain the lead and deny Bengal Warriors a bonus point. In the end, a brilliant tackle by Jeeva in pushing out Surjeet Narwal saw to it that U Mumba would take home 5 well deserved points, running out 26-18 winners.
The Season 3 runners up will next face home side Telugu Titans on the 6th of July in Hyderabad.