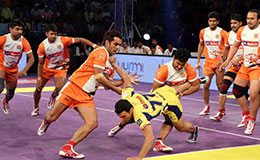 New Delhi: Trust Manjeet Chhillar to come with something superlative when required and the Puneri Paltan Captain did it again in a crucial tie against Telugu Titans. He was at the forefront on court. He raided well not by claiming points but ensured that he ran down the clock with empty raids. He was superb in defence, his forte and with the ever alert Surjeet Narwal and Jasmer Gulia also joining hands the threesome plotted their rivals' downfall by a handsome 41-24 margin with two all-outs.
At half-time they had ensured that his would be a no contest by stretching the lead to 21-6 with an all-out in the 7th minute. Till then the Telugu Titans had even failed to open their account.
They finally got the first point in the 9th minute which came through Sukesh Hegde. Nothing went right for the losing side as they slumped to their second all-out immediately after resumption. At 25-6 only a miracle or a slump from Puneri Paltan would have brought them back.
Telugu Titans may well have shut the door on their chances for a play-off berth. They have 33 points with six wins in 12 matches and face U Mumba and Patna Pirates in Mumbai. Even a win in both the matches may not give them a place as Puneri Paltan with 37 points are tied with Bengal Warriors and yet have a match more than Telugu Titans to try and clinch their place.
Puneri Paltan were into their stride within no time and moved into top gear with their defence affording the momentum. Surjeet Narwal came with two good tackles on Rahul Chaudhari and Meraj Sheykh. The Puneri Paltan attack too was sharp. Manjeet Chhillar and Deepak Niwas Hooda dealt running kicks on Rahul Kumar and Dharmaraj Cheralathan to rock the rivals and also give notice of the dangers that lay ahead. Only three points to Rahul Chaudhari in the first half and another two in the second was the complete story of Telugu Titans loss today.
There was no respite for them as even Tushar Patil the Puneri Paltan raider scored five raid points with three successful do-or-die raids. His success has given Puneri Paltan the much needed flexibility to coach Ashok Shinde. It appears that Jasmer Gulia has sorted out their problems in defence too.
Even Sukesh Hegde the normally go to man for the Telugu Titans had to be substituted. In their anxiety to get back into the match the Telugu Titans went for broke and the strategy didn't work. The team from the sugar belt ended their campaign on a sweet note with today's capital gains.