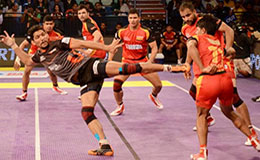 New Delhi: In a thrilling display of strength and dominance, defending champions U Mumba thrash Bengaluru Bulls 39-18 at the Thyagaraj Indoor Stadium in New Delhi. The defending champions showed complete confidence in their abilities and performed like a well oiled machine.

The first half saw another quick all out secured by U Mumba in the 9th minute with Rishank Devadiga entering the Bulls den with only one player left. The score being 7-2 at the time, it became apparent that a repeat of their previous encounter in Kolkata was simply a one off occurrence.
The U Mumba train steam rolled the raiders that entered their den including Bulls captain Surjeet Narwal who barely had a chance to show his prowess against the likes of Fazel Atrachali and Mohit Chhillar. A smartly timed chase by Rakesh Kumar was the highlight of the first half with good tackles by Jeeva Kumar preventing the flighty Pawan Kumar from escaping his hold.
Half-time saw the defending champions lead by 11 points, the same lead that the Bulls had at half time in the previous encounter. But U Mumba weren't going to let go of their chokehold on the game so easily. A second all-out was secured in the 22nd minute when Rakesh Kumar was sent in to raid with two players left and stretched to reach the midline with seconds remaining on the clock. There were hardly any mistakes committed by the defence which prompted coach E Bhaskaran to send in Bhupender Singh, Pawan Kumar and K Prapanjan for some match time before the home matches begin on 28th February. The round of substitutions came after a brilliant super raid from captain Anup Kumar who looked to be back in roaring form with consecutive returns from his raids.
The third all out of the match was secured at the half hour mark when Rakesh's running touch left Shrikant Tewthia to raid for the Bulls. The latter was eventually tackled and this gave U Mumba a lead of 20 points. Despite Fazel earning a yellow card for unnecessary action, the celebrations were as vociferous as ever with the defending champions extending their winning streak to 6 matches including earning their biggest win of Season 3.

Captain Anup Kumar mentioned in his pre match interview about the impact that Rishank has had in their wins so far. He reiterated this point as the raider earned 7 points including a tackle point today against the Bulls. "Rishank has been making his mark throughout our matches this season. When we had gone away for the South Asian Games, he took it upon himself to lead the attack and did brilliantly. He has extremely quick footwork which makes it difficult for the defence to hold onto him. His agility also allows him to escape most defensive holds."

Seeing as this is the last match before the team travel back to Mumbai to prepare for their home leg, Anup was confident that they would give their home fans a good showing. "It will be great playing at home and in a way, we are happy that the final leg of this season is in Mumbai. We have four tough matches and for a chance to finish at the top of the table, we need to come out in full strength and get maximum points from those four matches."

U Mumba take on arch rivals Jaipur Pink Panthers at Dome @ NSCI SVP Stadium in Mumbai on the 28th of February to begin their home leg of Season 3 of Star Sports Pro Kabaddi.