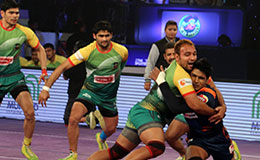 Patna: Leaders Patna Pirates managed to beat their neighbour Bengal Warriors 32-27 to maintain their unbeaten record in the Season 3 Star Sports Pro Kabaddi in the opener at the Patliputra Sports Complex. The match seemed to be tilting the winners' way in the first half after they made up for the early deficit to lead 17-11 at half-time. Patna Pirates have now tallied 38 points in eight matches while Bengal Warriors with one consolation point have 27 points in as many matches.
After a tense five minutes initially in the second half Bengal Warriors were well paced at 22-15 but a blunder by their otherwise safe bet Pardeep Narwal who sent the crowd in raptures with a super raid, literally brought their rivals back in the match. Bengal Warriors managed to come close to 24-25 when Rohit Kumar back from the success in the South Asian Games again swung the match with a two-point raid. The hosts managed to hold their nerves to rake out a win.

Both teams were a bit hesitant to attack although Manpreet Singh and Jang Kun Lee started on a positive note scoring a point in the first two raids of the match. It was pretty tight till the 11th minute with Patna Pirates just managing to sneak ahead to 8-7. For Bengal Warriors Shrikant Jadhav starting for the first time impressed with his precise raids but Jang Kun Lee an intelligent raider made the cardinal mistake of letting himself to concede a super tackle to the Iranian Hadi Oshtorak who was always a threat at the left corner. Hadi was to finish with 4 tackle points one less than rival Girish Ernak for the match.

Patna Pirates forced the all-out in the 15th minute with that Pardeep Narwal's super raid when he had Girish Ernak, Shrikant Jadhav and the totally off-colour Mahesh Goud plus the two points for the all-out. Till then Pardeep Narwal was surprisingly pointless.

After Patna Pirates made life difficult for themselves but managed to wriggle out with some timely advice from the leader Manpreet Singh. He chipped in with two bonus points which Rohit gathered a couple after an unsuccessful review by the rivals Patna Pirates breathed a bit easy.

But the danger was not fully averted as substitute Umesh Mhatre and the never say die Shrikant Jadhav kept on trying. However, in hindsight the two points he conceded, one for losing the chant and one when he stepped out did damage his team's chances.

A couple of factors that proved to be the Bengal warriors undoing was the inability of Nilesh Shinde their reliable defender to ensnare even one victim. The otherwise alert Nilesh even got kicked by Pardeep Narwal which must have shattered the seasoned campaigner's confidence.
Rohit Kumar was the top scorer in the match with eight points that included two tackle points. Shrikant Jadhav ended with seven, all raid points.