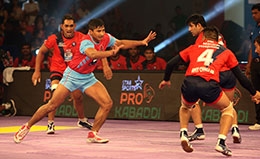 Jaipur: Dabang Delhi gave a superb all-round display to rout title holders Jaipur Pink Panthers 35-27 and maintain their fourth place on the league table with 15 points. Jaipur with eight points will play only one match in Patna, the upcoming leg. This means they have harmed their overall chances of qualifying for the play-offs. It was the raiding duo of the tall Kashiling Adake and the strongly built Rohit Kumar Choudhary in tandem with captain Ravinder Pahal who destroyed the Jaipur bastion. A comfortable lead of 17-10 exactly at half-time did a world of good to Dabang Delhi's confidence.

It was a standout performance for Ravinder as he had a high percentage of successful tackles, 8 out of 9 to be precise. He caught Jaipur's star, the man with the scorpion kick literally by his sting to render him ineffective. That Jasvir Singh was able to get only four raid points, tells the sorry tale of the Jaipur attack.
They had pinned high hopes on youngster Kuldeep Singh and Rajesh Narwal but they too ran out of steam towards the end. Bringing in Gangadhari Mallesh in place of Captain Navneet Gautam didn't work out in their favour as in the last match. Navneet's score of a solitary point in the six matches is a cause for major worry. The old firm of the masked Rohit Rana and Ran Singh also played below par. The latter though got a few raid points towards the end to reduce the margin of defeat.

Jaipur were never in the picture after the first all-out and the second one they faced in the 28th minute with Dabang Delhi leading 26-15 killed their spirit. By the 35th minute it was 30-21 but Amit Singh and Ravinder Pahal trapped Rajesh Narwal once each and Kuldeep Singh also falling once opened a lead of 11 points for Dabang Delhi. Jasvir getting two easy points and a super tackle on Rohit almost got them to escaping a defeat by less than seven points.

Delhi seem to have the combination right now with Ravinder and Amit Singh effectively manning the corners and Rohit proving to be an adequate foil for Kashiling Adake. They need a third raider but overall they played well in the absence of their Captain Jasmer Singh.
[module-214]