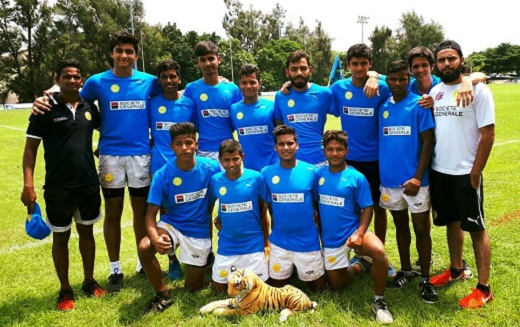 New Delhi: The Indian Under-17 Boys Rugby Team finished in Seventh place at the Youth Olympic Games Rugby Sevens Qualifiers, which was held at the Tainan Municipal Stadium, Tainan. Chinese Taipei on 9th- 10th Sepetember 2017. The team has participated under the aegis of the Indian Rugby Football Union (IRFU), the governing body for the sport of Rugby in India and was supported by Societe Generale, the financial partner of Rugby India.
After 3 successive defeats at the hands of Heavyweights Malaysia, Hong Kong & Host Chinese Taipei, the boys dug deep and defeated a spirited UAE rugby side to end Day 1 on a high. Team India finished in 7th Place after defeating Laos 24-5 in a thrilling match up.
Japan were crowned Champions of the tournament after defeating Thailand in a one side final by 43-0 and Chinese Taipei secured third place defeating Malaysia by 40-7.
A total of ten countries from across Asia including Hong Kong, Japan, Laos, Malaysia, Philippines, Thailand, UAE, Uzbekistan , India and hosts Chinese Taipei participated and fought for top honors at the championships.
Performance of Indian U17 Boys Rugby Team
Day One - 9th September 2017

Day Two- 10th September 2017

Team

Score

VS

Score

Team

Team

Score

Vs

Score

Team

India

0

Vs

55

Malaysia

India

5

Vs

29

Philippines

India

5

Vs

31

Hong Kong

India

24

Vs

5

Laos

India

5

Vs

40

Chinese Taipei

India

24

Vs

7

UAE
The following 12 players represented India at the Youth Olympic Games Qualifiers
1) Narasing Marndi (Odisha) – (Captain)
2) Vikas Dhuriya (Maharashtra)
3) Abhishek Yadav (Maharashtra)
4) Pankaj Singh (Maharashtra)
5) Chaitanya Motwane (Maharashtra)
6) Daryush Kapadia (Maharashtra)
7) Siddhant Mehta (Maharashtra)
8) Sagar Biswas (West Bengal)
9) Nikesh Kumar (West Bengal)
10) Pankaj Dagar (Delhi)
11) Raman Kumar (Delhi)
12) Amit Gautam (Delhi)
Coach- Rehamuddin Shaikh