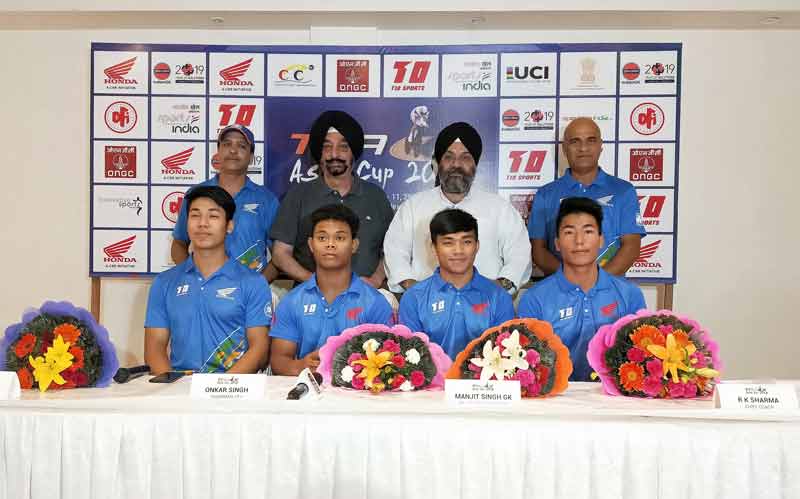 New Delhi: The Cycling Federation of India is organizing the sixth edition of The Track Asia Cup 2019 at cycling Velodrome, IG Sports Complex, New Delhi from 9th -11th Sept. 2019. The Federation has gone a long way since organsing in 2014 with hardly any stars to showcase and now has become a force specially in Junior section, not only at the Asian level but also have left a mark at the Juniors World Championship with unprecedented success.
The event will witness 12 teams from across Asia & Europe participating in this UCI class I accredited event. The important factor being that this event is not only part of the World cup, World championship, but also for the Olympic qualifier for 2020 Tokyo Olympics. The process of qualification started in July 2018 will go up toFeb 20th 2020 thus making it most competitive one. The main Challenge in the event coming from Hong Kong , Thailand , Kazakhstan & Malaysia.
The Teams will start arriving from Sept ember 7 and would have two days of practice session at the velodrome before the commencement of the event on Sept ember 9.
The main strength of Indian team is the Junior lead by Esow Alben currently ranked no 1 in the Kierin & Sprint event in the UCI world ranking. Indian Juniors in Sprint Team event are also ranked at no 2 and this makes our Juniors a formidable team and would be very tough for other countries to beat them. The junior team sprint, which won Gold recently in the World Junior Championship, will be star attraction, while Esow Alben, who secured three medals in the same championships and recipient of three Gold Medals in the Asian Continental Championships 2019 will lead the Indian challenge.
The senior women will also have a tough competition with the Hong Kong, Malaysia and Thailand. It will be lead by none other than Deborah and Aleena Reji Team Sprint event.
Federation would also enter its second team which will consists of cyclists from Khelo India Cycling Academy, a Cycling academy being managed jointly by the Sports authority of India and Cycling Federation of India and will provide a much needed exposure of International competition to the young aspiring cyclists of the country.
All in all three-day Cycling extravaganza will showcase top class competitive Track cycling in the Capital. The event is supported by ONGC, IOCL and our CSR partner M/s. Honda Motorcycle and Scooter India Pvt. Ltd., T 10 Sports to whom we are grateful.
Onkar Singh, Chairman, Cycling Federation of India, on this occasion said, "This competition is a buildup competition for Indian Cyclists, which is being organised regularly so that Junior Cyclists of India can compete with Asia's best and the exposure achieved here may be encashed for future events. The Junior cyclists will once again show their prowess and will dominate the Track. Esow who is participating in the senior level will be tested in his journey to the senior category".