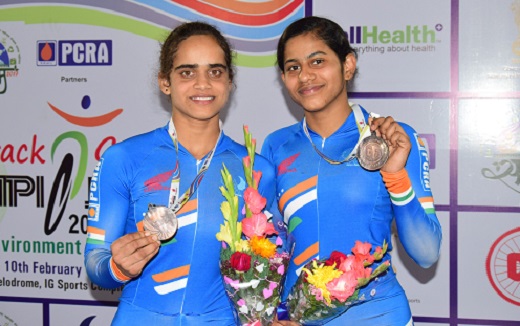 New Delhi: Indian cyclists created history by winning their very first bronze medal in the team sprint event, at the 37th Asian Track Cycling Championship, being held in the IGI Stadium arena, here from 6th-10th February 2017.
Indians opened their medal tally, with a scintillating performance from Aleena Reji and Shushikala Agashe, in the women juniors' team sprint event. They beat the Korean team, by a timing of 36.735 seconds. Alena Reji who debut in International Competition on 14 September 2016 at New Delhi in Track Asia Cup 2016 where she won silver medal said, "I'm not happy with my performance today, we missed the gold/silver medal when in qualifying round we missed the mark and have to fight for bronze medal with Korea. However, we snatched the medal from a tough opponent like Korea but it wasn't all merry for the Indian cyclists in action today."
Bidyaluxmi T. Devi had to be disqualified owing to an injury in the Women's Elite points race 20Km event.
In the team sprint event, the Men Juniors' and Men Elite teams failed to qualify for the finals due to a, 7th and 8th finish, respectively.
Kazakhstan rider, Veronika Myrxina helped secure the first gold medal of the championship for her team, in the Women Juniors' points race (10 Km) final.
This race, also witnessed a closely contested bronze medal chase. For the first thirty-five laps, the chase was led by Indian Megha Gugad, but she had to eventually forfeit the bronze medal to Yuka Matsui of Japan.
The first day of the championship wrapped up with the Kazakhstan team bagging their second gold of the day in the Women Juniors' Omnium event, with 145 points.
Teams that qualified for the Team Pursuit 4km event, in all categories will be contesting for the medals on the second day of the tournament. Finals will also be conducted in the Keirin and Time Trial events, on the second day.
Results:
Men Juniors
Finals: Team Sprint: 1. JPN 46.936s, 2. KOR 47.244s, 3. KAZ 47.852s.
Qualifying: Team Pursuit 4Km: 1. KOR 4:19.294s, 2. KAZ 4:21.215s, 3. JPN 4:21.215s, 4. HKG 4:24.906s.
Men Elite
Finals: Team Sprint: 1. CHN 44.913s, 2. IRI 45.765s, 3. JPN 45.765s.
Women Juniors
Finals: Points Race 10Km: 1. Veronika Myrxina (KAZ) 28 pts, 2. Haneul Koh (KOR) 28 pts, 3.Yuka Matsui (JPN) 18 pts;
Team Sprint: 1. CHN 35.819s, 2. TPE 36.623s, 3. IND 36.677s;
Omnium: 1. Svetlana Pachshenko (KAZ) 145 pts, 2. Minhwa Kim (KOR) 144 pts, 3. Yumena Hosoya (JPN) 137 pts.
Women Elite
Finals: Points Race 20Km: 1. Yumi Kajihara (JPN) 24 pts, 2. Li Huang (CHN) 24 pts, 3. Youri Kim (KOR) 17 pts.
Qualifying: Team Pursuit 4Km: 1. CHN 4:30.145s, 2. HKG 4:34.926s, 3. KOR 4:35.776s, 4. JPN 4:39.231s.