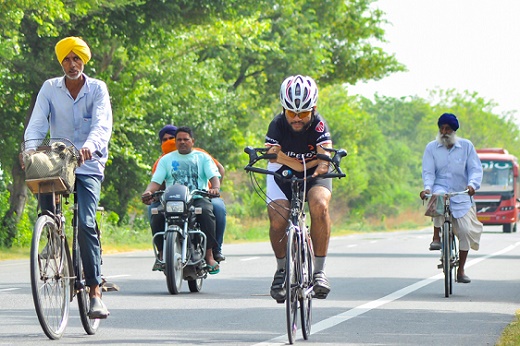 Patiala: When the going gets tough, the tough gets going. And this is exactly the story of Jagwinder Singh (25) -- the armless paracyclist from Patran in Patiala district of Punjab -- who defied all odds to pursue his passion in a world averse to people like him. Facing hostilities throughout his life -- from not getting an entry to a good school to financial hardships, and without any job and government support, the Patiala youngster nourishes the dream of winning Paralympics gold for India in cycling and becoming a drawing professor someday.
Speaking his heart out to Indian Sports News, Jagwinder says if he gets the support of people and the government, he would live his dreams and make the country proud by winning a medal in the Paralympics.
'Didn't even know how it feels to be a person with hands'
Recalling his past, Jagwinder said though he had to face difficulties in life, it wasn't as if his life had turned upside down, as are in the cases of people who lose their body parts due to unfortunate incidents. "I do not have both my hands since birth. So I did not have to deal with any traumatic situation physically, as I did not even know how it feels to be a person with hands. However, it was a cause of concern and problems for my parents."
Jagwinder has won several medals in cycling and drawing. A drawing teacher, Jagwinder can cook food with the help of his feet. He can also even work on a laptop. Jagwinder Singh won the state gold medal in Paracycling organised by the Chandigarh Cycling Association in 2014. He bagged bronze in the International Cyclothon held in Odisha in 2015. He completed the 212 kilometre cyclothon in 9 hours and 15 minutes, organised by the Green Biker Association, Patiala, in 2014. He was awarded a gold medal for his artworks by the Indian Council for Child Welfare in 2000.
'Parents my inspiration'
Thanking his parents for all the pains that they have taken in bringing him up, the armless cyclist said that his parents had always been an inspiration of his life. "The problem for people like me arises when parents do not accept the situation. My parents were different. Though our neighbours kept on discouraging them as to how would they raise me, they hardly paid heed to their words. After I started understanding the society, I also had to face these problems. However, my parents were of the view that their child should see the world, know the world whether they had to feed me for rest of my life," said Jagwinder, adding that his father works in a boutique and does petty jobs to feed his family.
"My mother taught me to write and draw with legs. She is not so well read but I consider her as a very educated woman. I want to tell all the parents not to underestimate their children with disabilities as every child has his or her own unique qualities. They should make sure what he/she really wants to be in their life. My mother also saw my desire to draw. She taught me to draw and I have even won a gold medal in drawing," said Jagwinder.
'My desire to pick and drop my sister to her school motivated me into cycling'
However, the Patiala youngster rues the lack of government support to him in pursuing his passion—cycling. "I started cycling in Class 8. I used to see my friends cycle their way to school and back and that inspired me to do the same. I wanted to pick and drop my sister to her school on the bicycle. That became my motivation to learn cycling and I learnt cycling on my own. This has come as a god gift to me. I used to fall down sometimes but that only encouraged me to work harder," said Jagminder.
"Young people get inspired by me," said the Patran cyclist, adding that he would one day like to represent India at Paralympics and bring laurels in cycling.
'I also wanted to become a drawing professor'
Jagminder also aspires to become a drawing professor but there have been a number of impediments on his way to realising his dreams. "I wanted to be a drawing professor but had to face several obstacles. I have completed my diploma in drawing. I teach children from Class 3 to Class5. I did not get admission in any good school. I faced the same situation again when I tried to convince schools to let me teach drawing. People reject me on basis of experience just because they did not want to take a handicapped in their school. I was so worried about this phase of my life. I used to convince them to take test and then one school selected me to teach its students. I have experience over a year now. The attitude of people towards me is changing with time."
Terming cycling to be a costly affair as a racing cycle cost a lot, he said, "My parents helped me to get a cycle. Cycling is a costly affair. I request our central government to give me a chance to prove myself. People in this country only give rewards to the sportsperson who have already won medal, but government should look out for talents to come forward to win medals for India," said Jagwinder, recalling one incident when he fell down from his cycle, but no one helped him.
"I gathered my courage to stand up alone, thanked god and promised myself not to ever feel weak in my life and that was a changing moment for me," he said.