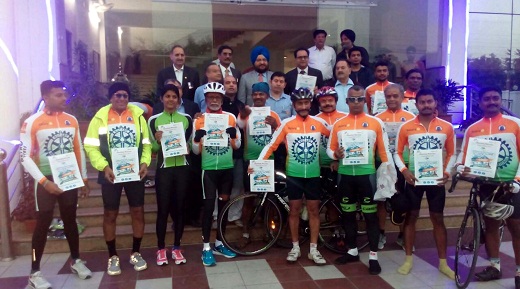 New Delhi: In an effort to sensitize citizens of India about Swachh Bharat, a month long 'Tour De Rotary Kashmir to Kanyakumari' was flagged off from Jammu on November 7th, 2016. The rally was flagged off by Deputy Chief Minister, Nirmal Singh from Rotary Bhawan, Gandhi Nagar. The bicycle rally is supported by Ministry of Urban Development to create awareness about Swachh Bharat and reinforce the message of the mission.
As part of the rally, 25 cyclists will paddle 4800 kms from Srinagar in Kashmir to Kanyakumari, thus covering a cumulative distance of 100,000 kms. The participants will travel through Delhi, Jaipur, Gandhi Nagar, Mumbai, Bengaluru, Chennai and Thiruvananthapuram to reach Kanyakumari on December 9, 2016. The cyclist from each zone will be cheered and encouraged by local units of Rotary club as well as other local urban bodies. The local units will mobilize amateur cyclists who will cover a maximum distance of 50 kms.
The rally was flagged off amongst much fanfare and enthusiasm from the participants and other people alike. There were dance performances to mark the beginning of the event and participants resolved to spread the cause of cleanliness amongst the citizens of India.