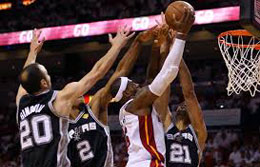 London: National Basketball Association (NBA) commissioner Adam Silver has said it would be "great news" if former Houston Rockets centre Yao Ming became president of the Chinese Basketball Association (CBA).
Addressing a press conference prior to the NBA global game between the Denver Nuggets and the Indiana Pacers at the O2 Arena here on Thursday, Silver did not want to show public support to the Chinese superstar on the one hand, but spoke highly about Yao's potential appointment to the CBA position on the other, reports Xinhua.
"I do not know firsthand whether that news is true, that he will become the head of the CBA. I have read reports. I have made a decision to not interfere in any way and to leave Yao Ming alone and only to wish him good luck. I think on behalf of both the CBA and global basketball, it would be great news," Silver said.
The 36-year-old Yao, who was selected by the Rockets as the first overall pick in the 2002 NBA draft, retired from professional basketball after eight seasons in the NBA. He then became the boss of the CBA side Shanghai Sharks. He was also elected to the NBA Hall of Fame last April.
"We've had a long-time relationship with the Chinese Basketball Association, and I personally have had a long-time relationship with Yao Ming since the very first day he was drafted into the league. He has become a good friend over the years, and he's been an excellent businessman," Silver said, who also noted that Yao has "played a very active role in improving the Chinese Basketball Association".
The CBA has just announced that Yao will co-head a transition team to prepare for its upcoming elections, which many believe to be the first step for him to become the boss of Chinese basketball's governing body.
Silver also had high praise for Yao's personal qualities and says he has the potential to improve Chinese basketball at both the league and national levels.
"He's very smart. He's very dedicated. He's very hard-working. He's a member of the Hall of Fame. He knows the game as well as anyone, and I think he could take Chinese basketball to that next level, both in terms of the quality of play for the national team and also for league play in the CBA," Silver remarked.
Also read: Madrid unbeaten in 40 matches, advance to Copa quarters