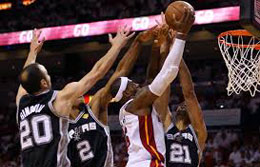 New York: In a first, the National Basketball Association (NBA) streamed a regular-season game on Facebook Live for basketball fans in India on Sunday evening.
The commercial-free game was streamed as part of the Sacramento Kings' fourth-annual "Bollywood Night" promotion celebrating traditional Indian culture and entertainment.
"The Sunday night match between Golden State Warriors and Sacramento Kings was streamed only for Indian fans," tech website CNET reported on Monday. Warriors won the game 117-106.
"We are excited to once again take part in an innovative league initiative that will provide a unique experience for our fans in India," Warriors President & COO Rick Welts was quoted as saying in media reports.
The announcement came after NBA earlier introduced Mobile View which puts fans closer to the action with zoomed-in shots on its League Pass subscription service.