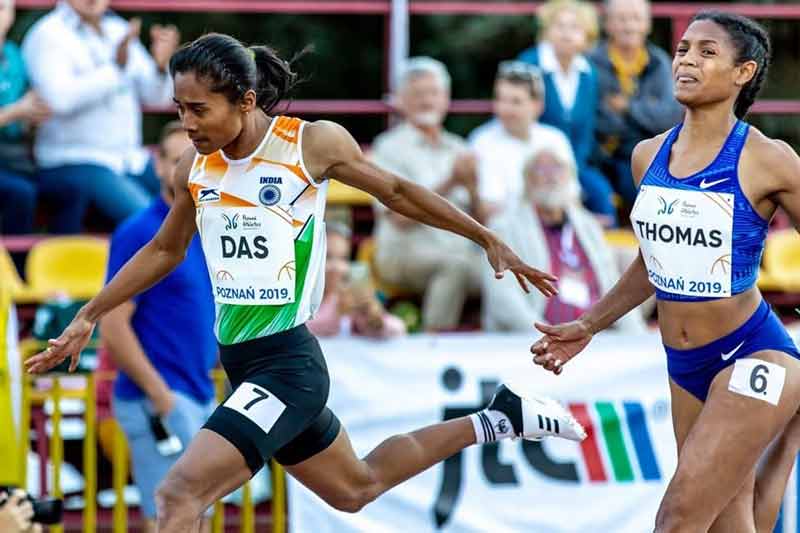 Indian ace sprinter Hima Das has won as many as six gold medals in the last one month or so in Poland and Czech Republic. The 19-year-old athlete won has won four races in the 200 meters' category while a solitary gold came in the 400-meter category. The last gold, which she won in August, came in the 300 meters' category. Notably, she has looked in sublime touch and has kept on improving her timing and clocking better speeds even though the fields in the competition have been average at the most.
It should be highlighted here that although it is true that Hima has won much deserved gold medals and is receiving worthy recognition in a country which has failed to produce as many successful athletes as it would have liked to, she is yet to qualify for esteemed World Championships.
To put things into perspective Hima had finished her 400 meters race in 52.09 which was her best timing of the season, however, only those who register a minimum timing of 51.80, can qualify for the World Championships. Similarly, Hima is yet to qualify for the 200 meters event as well since she has not yet clocked 200 meters under 23.02 seconds, the eligibility criteria required to participate in the competition.
Although not much talked about and definitely not receiving the same amount of limelight that he should have received, Muhammaed Anas has meanwhile qualified for the World Championships after he bettered his own record in the 400 meters event.
Interestingly, athletes around the world are facing more or less the same problems. This is because the World Championships are scheduled quite late in the season. This means that athletes can't peak too early nor can they leave it for too late. Thus all athletes, including the Indians are aiming at peaking twice in the season.
Notably, India is looking to send somewhere around 25-30 Indian athletes for the biggest Sports tournament in the World- the Olympics, scheduled to be held in Tokyo next year. The eight finalists of the World Championships will automatically qualify for the Olympics next year and that might be the most straight forward way to qualify. Meanwhile, emphasis is also being given to making a contingent for the future and eyes are being set at 2024 and 2028 Olympics.
With grassroot level development programmes being initiated and focus being given to age group games and a proper plan to proceed as far as the forthcoming Olympics are concerned, things are looking bright as far as track and field events are concerned. However, for India to imbibe a sporting culture, there is still a long way to go and only then can the country can boast of hundreds and thousands of Hima Das and Muhammaed Anas.