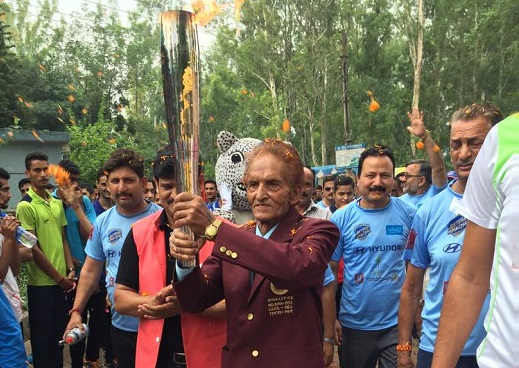 Bilaspur: Over 10,000 youth came together on the penultimate day of the HP State Olympic Torch Run. Led by veteran Olympic gymnast Anant Ram, the torch passed through Mandi, Sundernagar and Bilaspur today. The torch run had commenced in Shimla on 17th June and will reach its final destination tomorrow, in Hamirpur.
Torch bearer Anant Ram participated in 1956 and 1964 Olympic Games, and is the only Indian gymnast till date to have represented India twice in the Olympics. Speaking on the occasion, he said, "I am happy that such initiatives are happening in Himachal. This will give the kids a good opportunity to watch national sports stars who have represented Himachal and also showcase their own sporting talent. We never had such facilities during our time, and yet I represented India in the Olympics. I hope that such tournaments continue to take place from time to time. This will encourage kids to take up sports as a serious career, and bring glory to India on the international front. I cannot express in words how happy I am to that my Himachal is hosting a state level Olympics. My best wishes and blessings to Anurag Thakur and the entire team of HPOA."
The torch run is a precursor to the Himachal Pradesh State Olympic Games, which are scheduled to be held at Hamirpur from June 22nd – 25th June.
The torch run which started in Shimla travelled to Solan, Paonta Sahib, Una, Nurpur, Kangra, Dharamshala, Joginder Nagar and Kullu. 22nd June will mark the end of the run and the beginning of the HP State Olympic Games.
Aakash, a student from Bilaspur said, "It was an honour to run alongside Anant sir, he is an inspiration for many. India is not a one-sport nation anymore and has the potential to excel in multiple sports categories. I am a hockey player myself and am beyond excited to be a part of this tournament."
The torch run and the State Olympics have drawn the support of some of India's top athletes, including Olympic and Commonwealth champions. The HP Olympic Games will be inaugurated tomorrow and will be graced by The Great Khali and the governor of Himachal Pradesh Acharya Devvrat.