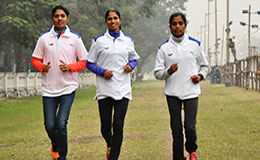 Kolkata: Indian Women Elite runners, O P Jaisha, Sudha Singh and Lalita Babar today interacted with the media ahead of the Tata Steel Kolkata 25K, which will be run on Sunday. Top 30 India's elite Men & Women athletes gear up for the second edition of the Tata Steel Kolkata 25K, scheduled to off from Red Road in the city of Joy on December 20, 2015.
In the Indian Elite women section, Lalita Babar holds the current Record in the Half Marathon by clocking 01:10:52 in Airtel Delhi Half Marathon in Delhi. When asked about running in TSK 25K she said, "My preparation has been very good this year. The kind of training we are getting and with our practice, the 25K Run is nothing. The Mumbai marathon will help us to structure our plan for the Olympics. We all are trying hard to win a medal for India."
O.P. Jaisha, the Indian track and field athlete from Kerala is the current full marathon national record holder at the last Standard Chartered Mumbai Marathon 2015. Speaking of her preparations, she said, "Mumbai marathon will decide my shape for the upcoming Olympics. We get calls to run for other championships throughout the world but we choose not to as the Indian Marathons offers good prize money to keep us motivated."
Lalita and O P Jaisha will be competing with last year TSK 25K runner-up Sudha Singh. Sudha has been the consistent performer and was also the winner of the half marathon in Standard Chartered Mumbai Marathon 2014 and came in 2nd in last year's edition of TSK 25K, clocking 01:33:49. She said, "We have been practicing for too long now. I have been training with my coach at the camp since the 11th of March. My best score has improved because of my coach. People ask me ''You don't want to go home?". Well my answer is no."
In the men's category, last year runner-up of Tata Steel Kolkata 25K, Elam Singh will compete with O.Sanaton Singh and B C Tilak to win the title. Elam Singh looks forward to winning the title this year.
B C Tilak will also run the Tata Steel Kolkata 25K, saying today, "I know this is one of the best races and I have worked hard for months now. I will try to put in 100% no matter where it takes me. I will try my best to improve my timings."
The long distance running coach for the Indian team, Nikolai Snesarev said "I love your country. That is why I am here. I remember wearing t-shirts form India when I was a child. So there has always been this special connection."
"With so much attention, we are doing an excellent job. It is a good experience to run in these 25 K runs. It helps us shape ourselves up for the Olympics. We constantly keep a check on our shape each month. Only people who have won medals in Asian games will compete for Olympics. We are very strict that way."
"Our Strategy is to not have a lot of athletes, but the choicest ones."