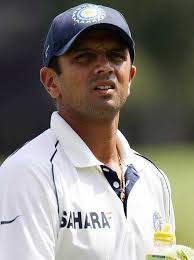 Name of the sportsperson: Rahul Dravid
Discipline: Cricket
Date of Birth: 11 January 1973
State: Karnataka

Achievements & Awards

• Arjuna award: 1998
• Wisden Cricketer of the Year : 2000
• Padma Shri: 2004
• ICC Test Player of The Year : 2004
• MTV Youth Icon of the Year: 2004
• Captain of the ICC's Test Team : 2006

Facts about Rahul Dravid
• Rahul Dravid is the first batsman who has registered a score of century in all Test playing nation.
• He has played 93 consecutive five day test matches for India.
• The first player to score 10000-run at No.3 position.
• Rahul Dravid has a record of most number of catches in Test Cricket.
• His highest knock of 270 runs is the longest innings played by an Indian batsman in terms of minute.
• He holds a record for not being dismissed on a duck for 120 innings consecutive one-day matches.
• He is only the second non-English cricketer to have hit 3 or more centuries in a two different Test series in England, the other being Donald Bradman.

Profile:

Rahul Sharad Dravid has been a regular member of the Indian cricket team since 1996. He was appointed as the captain of the Indian cricket team in October 2005 and resigned from the post in September 2007. Dravid was honoured as one of the top-five Wisden Cricketers of the Year in 2000. Dravid was also awarded the ICC Player of the Year and the Test Player of the Year at the inaugural awards ceremony held in 2004. Dravid also holds the record of having taken the most number of catches in Test cricket.

On August 7, 2011 after getting a surprise call to play in ODI series against England he declared his retirement from One Day Internationals and T20.

Popularly hailed as "The Wall of Indian cricket", Dravid is regarded by many to be one of the greatest batsmen in the history of the game. Dravid holds multiple cricketing records. He is the second Indian batsman, after Sachin Tendulkar, and the third international player to reach 12,000 runs in Test cricket. On 14 February 2007, he became the sixth player overall and the third Indian (after Sachin Tendulkar and Sourav Ganguly), to score 10,000 runs in ODI cricket in cricketing history. He is the first and only batsman to score a century in all ten Test playing nations. With more than 200 catches, Dravid currently holds the world record for the most number of catches in Test cricket. Dravid has also been involved in more than 80 century partnerships with 18 different partners and has been involved in 19 century partnerships with Sachin Tendulkar – a world record.

On November 24, 2011, He became the second international player to reach 13,000 runs in Test Cricket only after Sachin Tendulkar.

On December 14, 2011, he became the first non-Australian cricketer to address at the Bradman Oration in Canberra.