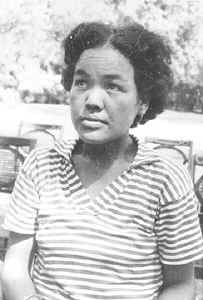 Name of the sportsperson: Bachendri Pal
Discipline: Mountaineering
State: Nakuri, Uttarakshi, Uttranchal
Date of Birth: May 24,1954
Achievements:

• Padamshree -1985
• Arjuna Award - 1986
• National Adventure Award – 1994
• Listed in Guinness Book of World Records – 1990
• Limca Book Of Records -1997
• Yash Bharti Award by the Govt. of U.P. -1995
• Hon. D.LITT by the University of Garwhal – 1997
• National Youth Award -1985
• Gold Medal for excellence in mountaineering by the IMF
• Mahila Shiromani Award – 1997
• Gold Medal by the Dept. of Education of U.P. - 1985
Profile:

Bachendri Pal was born into a family of very moderate means in 1954 in a village named Nakuri in Garhwal. Bachendri was an active child, and did well in her school.

Her first exposure to mountaineering was at the age of 12 when during a picnic she along with several schoolmates climbed a 13,123 feet high peak.

Despite many constraints, she continued her schooling and completed it successfully. On being persuaded by the principal of her school, her parents sent her to college. She completed her graduation, becoming the first girl of her village to do so. While doing her graduation, she also secured the first position in a rifle shooting event, beating other boys and girls. She also completed university courses leading to securing an MA and a Bachelor''s degree in education. Then she joined the Nehru Institute of Mountaineering (NIM). She was declared the best student and was considered as "Everest material". In 1982, while at NIM, she climbed Gangotri I (21,900 ft) and Rudugaria (19,091 ft). Around that time, she got employment as an instructor at the National Adventure Foundation, which had set up an adventure school for training women to learn mountaineering.

In 1984, India had scheduled its fourth expedition, christened "Everest '84'", to the Mount Everest. Bachendri was selected as one of the members of the elite group of six Indian women and eleven men who were privileged to attempt an ascent to the Mount Everest, Sagarmatha in the Nepaleses. The elite team was flown to Kathmandu, the capital of Nepal in March 1984; and from there the team moved onwards. Recalling her first glimpse of the Mount Everest, Bachendri once reminisced: "We the hill people have always worshipped the mountains … my overpowering emotion at this awe-inspiring spectacle was, therefore, devotional."

The team commenced its ascent in May, 1984. On the night of 15–16 May 1984, Bachendri and her tent mate were sleeping in one of the tents at Camp III at an altitude of about 24,000 feet.

On 23 May 1984, Bachendri reached the summit of Mount Everest, and at 1:07 PM IST, she was standing at the peak (29,084 ft) along with one other climber. The peak was small to accommodate two persons; and there was a vertical drop of thousands of feet all around the peak. So they first made themselves secured by anchoring themselves by digging their ice axes into the snow.

She became the first Indian woman to scale the Mount Everest, and the fifth woman in the world. She climbed down and reached the base camp safely. Her achievement brought her congratulations from many quarters across the world. In India, the President, the Prime Minister, and J. R. D. Tata congratulated her in personal.

She continued to be active after ascending the highest peak in the world. In 1985, she led an Indo-Nepalese Everest Expedition team comprising only women. The expedition created seven world records and set benchmarks for Indian mountaineering.