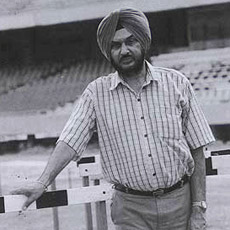 Name of the sportsperson: Gurbachan Singh Randhawa
Date Of Birth: 6 June 1939
Discipline: Athletics
State: Punjab
Achievements:

• Gold in Jakarta Asian Games 1962
• Fifth position in Tokyo Olympics in 1964
• Arjuna Award in 1961
• Padam Shree in 2005
Profile:

Gurbachan Singh Randhawa is one of the most eminent athletes within the periphery of India. He was born on 6 June 1939 at Nangli village in Amritsar district of Punjab. He had sports in his veins as his father himself was a noted athlete. Randhawa started early and began to participate in schools and college tournament. He was initially involved in hurdles only. He began his National career by putting up a dazzling show at the Delhi National Championship where he broke two national awards in four days. He astounded the spectators with his versatility as he clinched first positions in the javelin, 110 meters hurdles and high jump.

His golden moment of success came when he brought glory to India in form of gold medal in decathlon in Jakarta Asian Games with a whopping tally of 6739 points outrunning his nearest opponent by 550 point in the medal race. He unfortunately got injured in Jakarta. After that he only concentrated on hurdles.

His consistent performance brought him honors as he became the flag bearer of Indian contingent to Tokyo Olympics. He secured 5th place in the 110 hurdles race with his personal best of 14 seconds.

He tried his hands in coaching also. He gave many noted athletes to the country. His 14s 110 m hurdle record remains unbroken by an Indian after 40 years, and Randhawa`s decathlon barrier of 6,912 points remained unbroken for 12 years until his own trainee, Vijay Singh Chauhan crossed it.

Randhawa was conferred with the Arjuna Award in 1961 and the Padma Shri in 2005 and remains a doyen in the world of athletics.