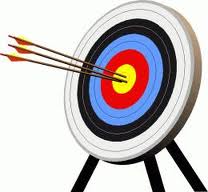 A sports involving test of accuracy and speed.
A sport involving various types of guns such as fire arms and air guns
Categorized by the type of firearm/weapons or target used (earlier live pigeons were used as a target in Olympics, later replaced with clay, because of the barbarism involved in it)
Category: The shooting sports are categorized by the type of fire arms or target used, like
Rifle - 4 Rifle ISSF shooting events( including 2 Olympics events)
Handgun- 6 Pistol ISSF Shooting events (including 4 Olympics events)
Shotgun- 3 shotgun ISSF events (all Olympics)
Action- applicable to non-traditional shooting sports
3-Gun- A practical shooting events where the stages are shot with a combination of a rifle, handgun, and shotgun.
Submachine gun
Crossbow
Governing body:
The national Rifle Association of India (NRAI), currently headed by International trap shooter Raninder Singh (president)
Formed on April 17, 1951, with GV Mavlankar as its President
*International Shooting Sports Federation (ISSF) is the international governing body of shooting responsible for both promotion and rules and regulations at international level. It is a federation of 150 plus national members.
Apart from that some other international bodies are:
International Practical Shooting Confederation
International Defensive Pistol Associations
Shooting events in India: There is many, but few important one's are-
National shooting champion ship competitions
All India GV Mavlankar shooting championship
Kumar Surendra Singh memorial shooting championship
All India Inter School Shooting Championship.
Major international competitions:
The Olympic Games, every four years
The ISSF World Shooting Championships, every four years plus every other year for shotgun events
The ISSF World Cup
Regional championships (like European Championships or the Pan-American Games)
*These are the only competitions recognized by ISSF, in other way, the only competitions where world records can be set. That is why sometimes many national records are higher than the world records.