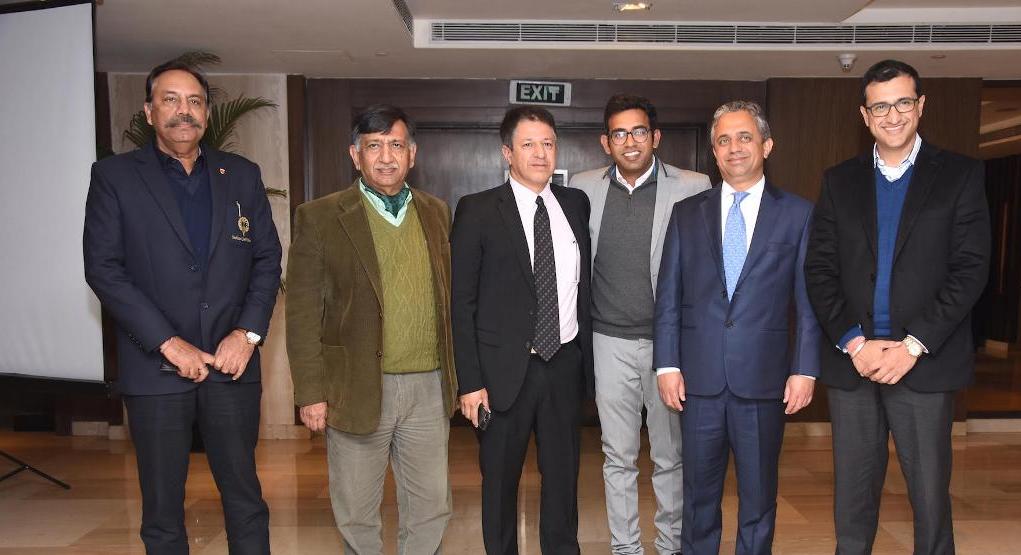 New Delhi, January 10, 2018: Anant Bajaj, MD, Bajaj Electricals, launched www.worldcgr.com, a unique web-based ranking system for corporate golfers here today. The unique ranking system takes into factor a person's designation, company's net worth, market capitalization and performance in CGR Golf tournaments.
A one of its kind concept in corporate golf, 'Corporate Golf Rankings', the brainchild of Suneal Mangal, will be launched globally in 18 countries as identified by IMG- Reliance. Speaking on the occasion, Bibhuti Bhushan, DG, Indian Golf Union, said, "As the governing body for golf in India we support CGR and any endeavour that promotes golf in India."
"We are delighted to be a part of CGR. Bajaj Electricals has always actively promoted various sports like Kabaddi, Badminton, Marathon and now Golf. Golf is a unique sports where player spends hardly 10 % of the time actually hitting the ball and the rest of the time is spent on planning and strategizing much like business. Both require a strong sense of discipline and integrity. Moreover, Golf is probably the only game which tests your character by rewarding players who remains calm under pressure," said Bajaj.
Rana Kapoor ( MD & CEO - YES Bank) was the first member to sign up, while Kushagr Ansal (CEO, Ansal Housing), Rajeev Talwar (CEO, DLF) and Pranav Roach (Hughes Network Systems) were officially inducted as the first few members of Corporate Golf Rankings.
Kushagr Ansal, Ansal Housing said "A true corporate golfer in the real sense is a person who not only plays good golf but also runs and manages his company well. There is a great sense of satisfaction in promoting these aspects that generally do not get promoted."
The network will have 11000 members by Invitation only, reaching out to 200 golf clubs and more than 300 corporate houses. Each member will get CALLAWAY discount vouchers multiple times throughout the year along with CALLAWAY special vouchers to CGR members. The top 60 corporate golfers from the 30 categories who qualify for the grand finale will get a Callaway golf bag, special discount vouchers from CALLAWAY (valid for 1 year). The top three finishers in the grand finale will receive prizes from a theme of 'what money can't buy'.
"Golf has long been the game of corporate and business people. This isn't about being elitist, it's about creating a membership that shares common values and interests, and at the same time provide an engaging golfing and networking platform for all stakeholders – members and sponsors alike. We are excited to partner with CGR on this innovative initiative which helps us reaching our customers directly," said Mr. Prashant Singh, General Manager, Callaway Golf India.
Suneal Mangal (Imaginator, CGR) " 'Imagination is more important than knowledge' – Albert Einstein. CGR has embarked upon the plan to create a worldwide network of corporate golfers to facilitate networking, recognition & celebration of the premium & affluent segment that constitutes the golfing community, lends itself to up-selling opportunities for luxury brands, high end hospitality services & content for media houses through this first of its kind concept in corporate golf globally".