The world's largest consumer engagement event culminates with an exciting finale at the City of Lakes, Udaipur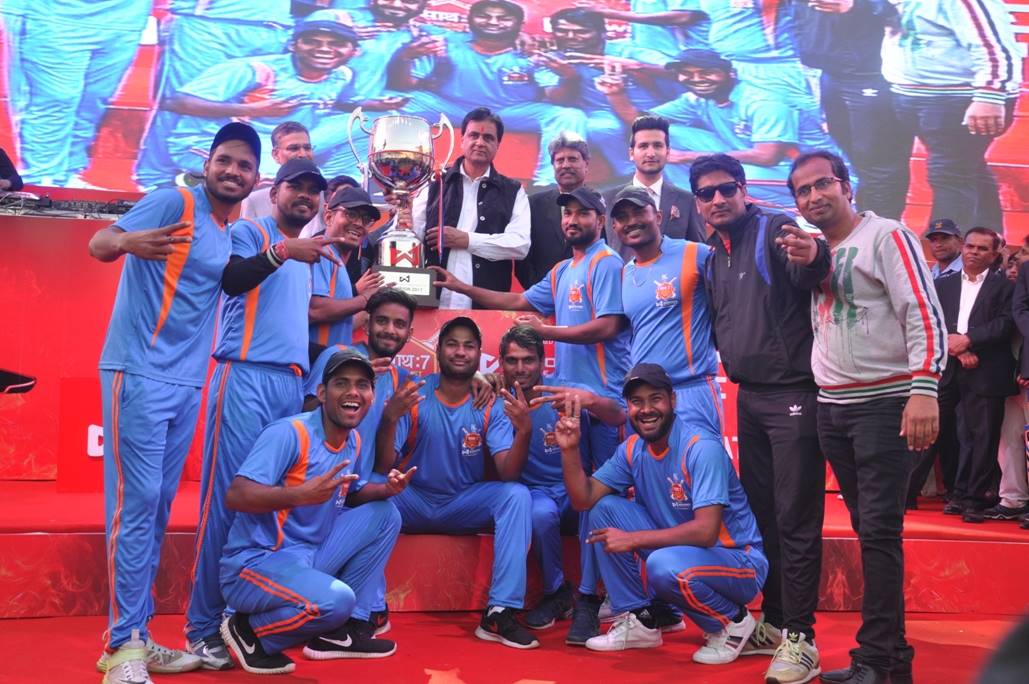 Udaipur: Wonder Cement Saath7 Cricket Mahotsav the world's largest consumer engagement event concluded its second edition with Shri Shyam Cricket Club from Jaipur emerging as Champions by beating PCA Eleven from Ahmedabad by 23 runs at the Delhi Public School Ground, Udaipur here on Sunday.
The tourney that caught public imagination and involvement to the hilt in the states of Rajasthan, Gujarat and Madhya Pradesh, saw the participation by 48,000 people. Women too came up on the field and showed their sporting vigour. More than 60 women team registrations were received this year and more than a 1000 women participated in the 2nd season of Saath7 .
Guests of Honour for the event were Shri Shrichand Kriplani, Cabinet Miniter of Urban Development & Housing (Govt. of Rajasthan), and Shri Kapil Dev, Former Indian Cricketer. Vivek Patni Director Wonder Cement and the chief guests watched the finale along with thousands of spectators who had gathered to cheer for their teams and enjoy the spirit of cricket.


After competing at tehsil, district and zonal levels, teams which were winners from their respective zones came up to play in the finals. After several knock out matches, teams Shri Shyam Cricket Club and PCA Eleven reached the finale of the tournament. The action packed round was full of breath-taking moments and the players displayed their innate talent within the fierce pressure and competition. A final round between all girls teams Pacemaker, Udaipur and S.S. Jain Subodh P.G. Girls College-Jaipur who have won in the all-girls team matches also took place and Pacemaker from Udaipur emerged as the Women Champions displaying a powerful performance at the Cricket Mahotsav.


The presence of a former Indian Cricket Team Captain Shri Kapil Dev who have led his team to a World Cup win boosted the morale of players and inspired them to do their best. Delighted by their spirit, Shree Kapil Dev on his behalf awarded an amount of rupees 1 lakh to Sushil Meena, best player of the tournament.
Kapil Dev and Vivek Patni (Director- Wonder cement) presented the Saath7 Champions Trophy to the Champions of the Saath7 finale along with certificates and a cash prize of Rs.3,50,000. The runner-up teams were rewarded with a cash prize of Rs.1, 40,000 and Rs.70,000 respectively. The trophy to the Champions of all-women team matches was awarded along with a cash prize of Rs. 1,40,000. Every participating player in the finals was given cricket gear too.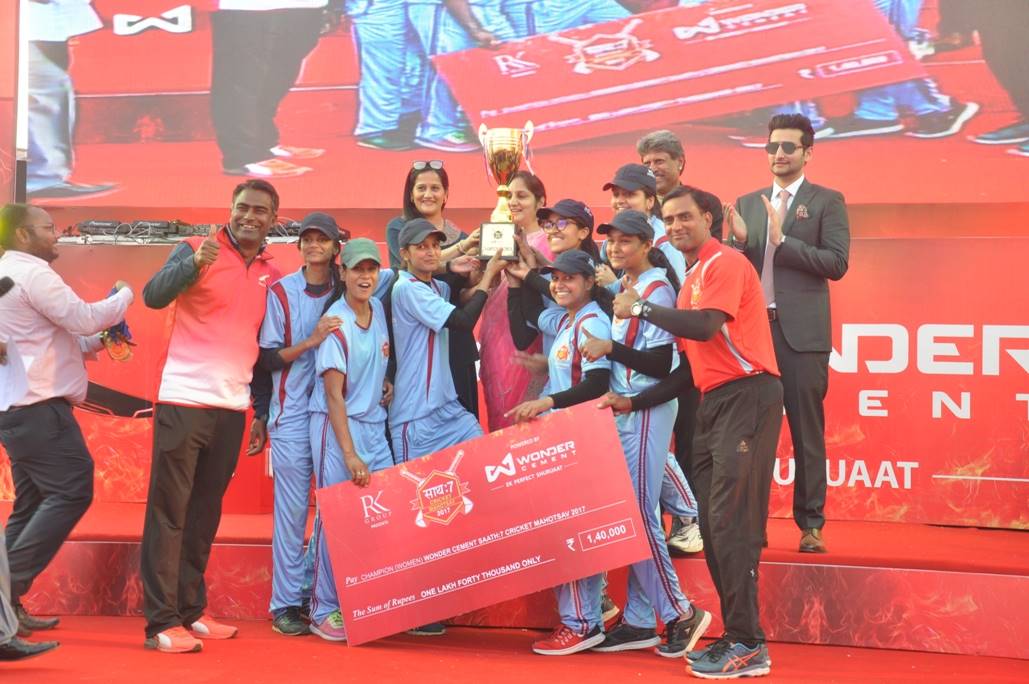 Other accolades presented to the players were:-
Man of the Match, Lakhan from Shri Shyam Cricket Club, Jaipur, was given a cash prize of Rs.7000/-
Man of the match in all matches were given a cash prize of Rs.3500/-
Best Fielder, Sanjay Bhadaniya was given a cash prize of Rs.7000/-
Best Batsman, Sushil Meena was given a cash prize of Rs.7000/-
Best Bowler,Kaushal Kaushik was given a cash prize of Rs.7000/-
Best Women Player of the tournament, Divya from Udaipur, was given a cash prize of Rs.35,000/-
Man of the Series, Sushil Meena was given a cash prize of Rs.35,000/-.
Marking the final countdown, Vivek Patni, Director,Wonder Cement said, "Wonder Cement Saath7 Cricket Mahotsav 2017 has set a new precedent globally by being the first of its kind tournament in its scale, reach and participation." "I am glad that the goal of having this tourney has been largely achieved with the huge participation across the states and I hope that the sporting spirit generated through this event sustains to further benefit the states and the nation."
Wonder Cement Saath7 Cricket Mahotsav 2017 is world's largest Consumer Engagement Campaign involving cricket, where-in 48000 people participated across the 3 mega states of India viz. Rajasthan, Madhya Pradesh & Gujarat.
It is a high energy 7 players 7 overs tournament which provides a ground for the people of remote areas of our states to up come on the field, show their talents and make their cricket dreams a reality. Giving it a twist, if a team has a girl member it gets 7 runs as bonus for every match, a feature added for encouraging the aspiring women to come up on the field with dignity and play alongside men. With a total cash prize of Rs 40 lakhs to be awarded to the winning teams across the entire tournament from tehsil level to the finals, the champions of the tournament will be awarded 3.5 lakh cash prize.
The Scale and the Spirit of Wonder Cement Saath7 Cricket is directed at encouraging local talent, promoting women emancipation, bringing unity across all strata of society, and generating local employment. It is eagerly awaited by people to interact, play and enjoy the fun and amusement it brings along.