GoSports Foundation, a Bangalore based not-for profit organization celebrated the 3rd edition of the Athletes Conclave in a glittering ceremony held in Bangalore today. This year's edition saw the country's top elite and emerging athletes come together under a single roof for knowledge building sessions on various aspects to make them better sportspersons in the future. Day 1 of the event saw experts touching upon important topics surrounding nutrition, post career management, anti-doping, along with athletes hearing the experiences of advisory board members of the foundation Abhinav Bindra and Rahul Dravid in front of an august gathering.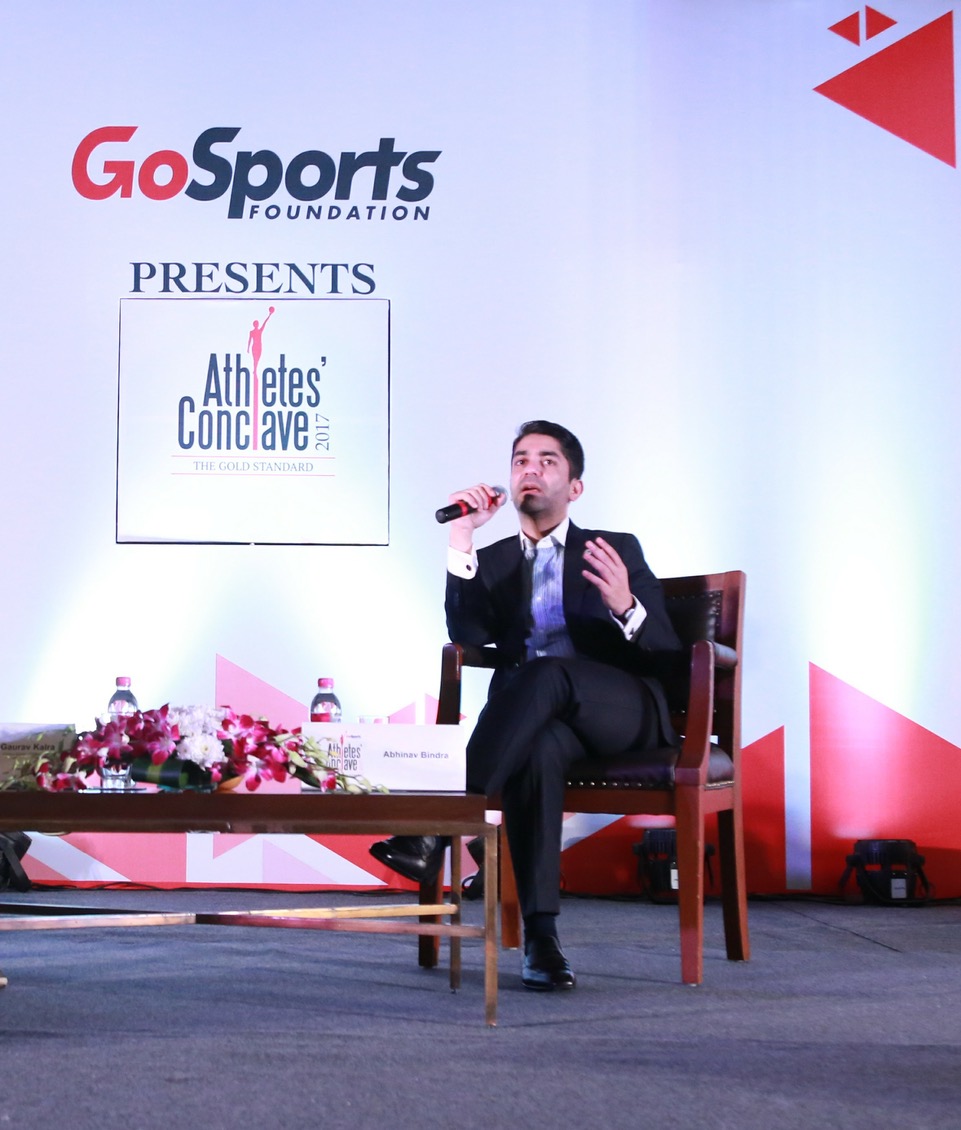 Talking about the 3
rd
edition, Deepthi Bopaiah, Executive Director, GoSports Foundation, said, "The first edition of the Athletes' Conclave was held in 2013 which was followed by a Coaches' Conclave in 2015. The idea behind organizing the conclave is to share knowledge with our athletes and at the same time give them a platform to learn and understand the nuances of being an athlete. We at GoSports Foundation are building a sustainable athlete-centric sporting ecosystem and our board of Advisors Rahul Dravid, Abhinav Bindra, and Pullela Gopichand are constantly guiding us in our quest to produce present and future stars of India. Ahead of all important year, our objective was to build a community among our athletes so that they can come together in the spirit of Team India. This year's initiative saw us brining our athletes from various Olympic and Paralympic sports together for the first time."
The day began with India's only Olympic Individual Gold medallist Abhinav Bindra speaking about the Olympic dream, the preparation it takes to make it to the Olympics and the Medal Winning feeling. Speaking about the conclave, Abhinav said," I have been associated with GoSports Foundation since 2014 as they espouse my view that talent needs constant attention and support; be it introduction to sport science from an early age or guiding and handholding the athletes to high performance training. The Athletes' Conclave is specifically designed to bring all our athletes together across programmes and educate them not only about the world of sport but also going beyond to actively involve them in society."
"Chart your own course - I did it my way, you create your own path." shared Abhinav Bindra opening the morning of the GoSports Foundation Conclave 2017, a confluence of over 60 young Olympians and Paralympians supported by GoSports Foundation. Building and sharing from personal experience, India's only individual Olympic medalist shared that while there was a whole team behind a single Olympic medal, eventually the athlete always needed to remember to do it, her/her own way.
Discouraging public perception that, "
an Olympics was only once

in four years
," Abhinav spoke for the whole room of athletes when he shared,"
the Olympics is once

in four years

, but for us, it is every single day. Every day we get up and try and be the best we can be and only when we do work every day do we give ourselves the best chance
". While also saying that only hard work would get you past certain championship moments, admitting that he was a "
Poor Athlete
" but a "
Hard Worker
" and candidly shared, "
I did not have talent, I was a not a competitive person, I was not a fit person when I was young. I disliked competition. I used to be very nervous and I did not possess any talent, my only talent, was that I worked hard. And eventually I realised that Hard Work is a talent as well. I kept working hard and I kept working hard on everything I was doing.
"
Given the first open forum that Abhinav was sharing with a newer generation of Olympians, Abhinav also answered a very burning question, how do you deal with pressure? and Abhinav was glad to bust a few myths, the first being that an athlete claiming enjoyment at a competitive event, was just an athlete running away from Pressure, because Pressure was part of every athletes journey band the best way to deal with it, was to accept it, "accepting the pressure of competing so that you can use your mind and energy on other things is the first step and that pressure is very important" continuing, "When you start to accept Pressure and use it in a positive way, it helps you perform better because it gives you that little bit of edge to do the best for yourself.
HIs thoughts were echoed by GoSports Foundation fellow advisory board member, Rahul Dravid, who shared, that when he felt pressure, he took it "ball-by-ball". Pausing, re-grouping his thoughts for that moment and then going for the next ball and encouraged all athletes, to be there, be present and then deal with the Pressure that they were in.
Through a whole morning of candid conversations with athletes, Abhinav and Rahul concluded deafeningly, and agreed that every athlete had to be present, with Abhinav summing it up sharing, "Something will come up at the Olympic Games that you did not expect. and you need to evaluate your situation, learn how to deal with it and move on and get on with what you were supposed to be doing."