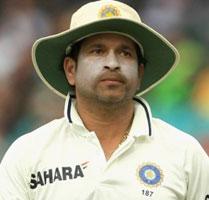 The Sachin Tendulkar effect cannot be measured in statistics, it has been an experience and some of us were blessed to have grown up in the days when he performed.
Sachin Tendulkar turned 44 on April 24. As a devotee of God of cricket if ever I have a regret, it would be not having watched a 16-year-old Sachin Tendulkar smash Abdul Qadir and Mushtaq Ahmed for a flurry of sixes in Peshawar in 1989. Kids my age were busy playing plastic ball cricket when a genius was tearing a world class bowling unit apart in their own den. Owing to rain, the match had been cancelled but because of a huge crowd, a 20-over exhibition match was played. India needed 69 in 30 balls and then Tendulkar started dancing on the pitch. It was not a dance of serenity but a dance of decimation, a dance of carnage, a dance of destruction, and ultimately a dance of joy! India though fell short by 4 runs even with 18-ball 58 heroics of a boy too young to stay away from home let alone try and win matches against Pakistan. In that loss, India had discovered a gem, a superhero, a prodigy, a genius – a God.
In one of the test matches of that highly charged series, Tendulkar got hit on the nose from a rising delivery from Waqar Younis, a tearaway fast bowler who also happened to be making his debut. There was blood on the pitch and there were aggressive suggestions made to the boy to go home and have milk. How Tendulkar responded gave the world an inkling of what was to come. He stood his ground literally on the pitch, got his nose taped, hit a match saving 57 and shrugged his shoulders in nonchalance, the shoulders that were to carry the burden of an entire nation every time he stepped out to bat over the next quarter of a century.
When Tendulkar arrived, India were considered paper tigers abroad—a team that looked good on paper but dismantled the moment it faced chin music on fast bouncy tracks. It would have been frustrating and heartbreaking for a young man to be the best in the world and yet end up on the losing side more often than not, win man of the match award but not the match. An English lady out of sheer awe and may be a bit of pathos once quipped, "Why don't you let the little fella bat for all of you?" Even for a diehard Indian fan it was "Tendulkar out, all out." Yet, Sachin himself never uttered a word of disrespect to anyone, made no suggestions that he was fed up with all the losing, he just kept doing what he was best at and that was simply being the best. He was perhaps the only overseas batsman who made every single Australian soul stand up in ovation as he entered the arena to weave his magic.
Talking about magic, who can forget the post lunch session in Cape Town in 1997 when he and Azhar went after a bowling attack comprising Alan Donald, McMillan, Klusener and made them look helpless as if it was a mismatch of a contest. Can we ever forget Chennai innings against Pakistan when he battled enormous pain to take India to the doorstep of victory only to be denied? Can we forget the Desert Storm over those two days in Sharjah? Can we forget 98 against Pakistan at Centurian—an innings that started with a picture book cover drive off the greatest left-arm fast bowler ever by the name of Wasim Akram? Can we forget that on-the-roller-skates six off Andrew Caddick or that wonderful display of leg spin bowling that got Moin Khan round his legs in the last over of the day? These are all rhetorical questions with an obvious answer. Sachin Tendulkar's epic performances will remain etched in our memories forever.
Sachin Tendulkar transcended all boundaries and in words of Abdul Qadir, "Sachin is a book, a college, a university of cricket through which young cricketers all over the world need to educate themselves." Throughout the 90s, Tendulkar happened to be the only hope of a nation which was just about beginning to find its footing as an economic giant. Tendulkar gave ordinary Indians a sense of confidence in their ability to match the best in the world and perhaps better them. When Tendulkar batted, a nation stopped functioning, streets wore a deserted look, every corner that allowed a view of the television set was occupied, nails disappeared from the fingers, hair stood on its edge, drawing rooms smelt of arrogance, India in that moment was the most beautiful country to have been born in. The genius with a bat in hand showed the way to millions of middle class youth to follow their passion, work hard as if there was no tomorrow, beat the best and yet remain humble to the point of being unreal. The Sachin Tendulkar effect cannot be measured in statistics, it has been an experience and some of us were blessed to have grown up in the days when he performed.
A generation that grew up with Sachin Tendulkar would have dreamt of Sachin hitting a century and the winning runs in the final of the World Cup but then God's scripts are usually beyond us and it would be presumptuous for a mortal to even try to get a hold of them. May be God wanted an indebted nation to pay back some part of the ecstasy loan through youngsters who carried the great man on their shoulders on that memorable night.