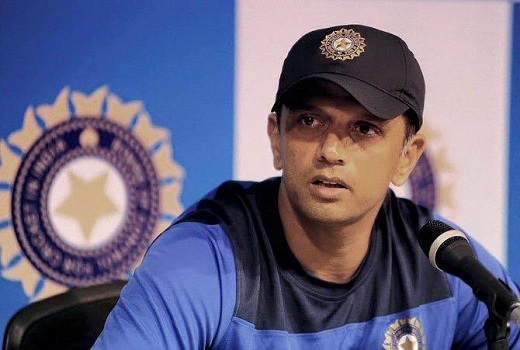 Everyone remembers Rahul Dravid 'The Wall' for his outstanding contribution as a Test batsman. However, he was also a very good ODI player as well. In 344 matches, Dravid has scored 10,889 runs with an average of 39.16. He has 12 hundreds and 36 fifties in his glorious ODI career. Adding to that Dravid also has four wickets to his name. His best of 153 came against the Kiwis at Hyderabad.
He was known to be a slow player. Many of them believed that ODI format was not suitable for him. Dravid proved everyone wrong when he came out with flying colours in this format too. Rahul Dravid's match winning knock have mostly been overshadowed by great innings from Sachin Tendulkar, Saurav Ganugly and Virender Sehwag. But he has been a most dependable batsmen and genuine match winner for India.
Also Read: Rahul Dravid turns 44! Tendulkar, Sehwag, Gambhir, Govinda wish 'The Wall' a Happy Birthday
Here are the best innings of Rahul Dravid in ODIs
1. 92 not out Vs England at Bristol on August 24, 2007 – Dravid always came up with something special whenever he was criticized. This innings of 92 not out from just 63 balls against England was the one of them. After losing the first ODI, India needed to bounce back to stay alive in the series. After the wonderful opening stand and contributions from Sachin Tendulkar and Yuvraj Singh, India needed a momentum to score quick runs. Dhoni tried but eventually got out to Jimmy Anderson for 21 runs. After England were back to their business by picking up Dinesh Kartik, Ajit Agarkar and Romesh Powar in few overs, Dravid alone took the responsibility and scored quick runs. His knock of unbeaten 93 from just 63 balls helped India to reach a decent total of 329. Chasing the score of 330 runs, England were upto a decent start. Prior and Cook added 76 opening stand. The partnership was looking good but couldn't last long. Munaf Patel picked up both the openers in consecutive balls and gave a vital breakthrough. England's middle order batsmen Kevin Peterson and Ian Bell were building a strong partnership. They both shared a 58 runs partnership for the 3rd wicket. Piyush Chawla broke it by taking wicket of Peterson. After that, Bell again shared a partnership with his captain Collingwood. The 42-run stand ended when Collingwood was clean bold by Chawla. Fintoff also couldn't last long. He was out in the next over. Ramesh Powar picked up Fredie Fintoff's wicket. Bell and Bopara were dismissed in the span of 3.8 overs. India were in the game. But Mascarenhas scored a mind bowling 52 of 45 balls that panicked the Indian team. Ajit Agarkar wasted no time and dismissed him after he reached his fifty. In the end, England was just 9 short of India's score. India won that match by 9 runs. Rahul Dravid was declared the player of the match.
2. 22 ball Fifty Vs New Zealand on November 15, 2003– It was another match where Dravid proved that he can bat according to the situation. This was the 9th match of TVS Cup played in Hyderabad. After Tendulkar and Virender Sehwag slammed tons, middle order batsmen like Sourav Ganguly, VVS Laxman and Yuvraj Singh couldn't hang around. India needed someone who could carry this innings forward. Rahul Dravid rose to the occasion by slamming 50 of just 22 balls. He went into the record books as fastest ODI fifty by an Indian player. This blazing knock had 5 fours and 3 sixes. This knock helped India to post a massive score of 353 in 50 overs. It was off day for Blackcaps, they couldn't do much. They only managed to score 208 runs 47 overs. That gave India convincing win of 145 runs.
3. 153 Vs New Zealand at Hyderabad on November 8, 1999 –He liked facing the Kiwis. He spared none of them. In the 2nd ODI of the series at Hyderabad, Rahul Dravid and Sachin Tendulkar went in the record books by registering the highest partnership in ODIs. They both added 331 runs for the 2nd wicket. Dravid was finally dismissed on 153 by Cairns. But this innings helped India post a mammoth score of 376 in their 50 overs. Sachin was unbeaten on 186. The Kiwis couldn't do much. They only managed to score 202 in 33.1 overs. India won this match by massive 174 runs.
4. 59 Vs Pakistan at Multan on February 16, 2006 – India toured Pakistan in 2006. This was the 4th ODI of the series. Indian bowlers did a fine job by rattling the Pakistani batsmen for just 161 in 41.5 overs. Irfan and RP Singh demolished the batting order by picking 4 and 3 wickets, respectively. Chasing the modest target of 162 runs, Indian team lost Sachin and Gautam Gambhir early. Dravid and Yuvraj repaired the innings by sharing a partnership of 85 runs for the 3rd wicket. They both brought the innings to the right track. Dravid's well made 59 gave Raina a platform to finish the innings with ease. Raina's unbeaten partnership of 29 with Dhoni saw India through. India won this match by 5 wickets and 105 balls to spare. Largely this important innings has been forgotten by fans. His contribution of 59 was the reason that India won the match comfortably.
5. 145 of 129 balls Vs Sri Lanka in World Cup on May 26, 1999 – The 21st World Cup match played at County Ground in Taunton. Dravid was again in the record books for adding 318 runs with Ganguly for the 2nd wicket. Ganguly's career best of 183 not out came in this match. Unfortunately Dravid couldn't score more then 145. He was run out by Muralitharan. But Ganguly kept on playing and stayed unbeaten on 183. Due to these 2 tons India posted 373 runs in their allotted 50 overs. Sri Lankan batsmen also couldn't do much. They managed only 216 runs in 42.3 overs. India wins this game by massive 157 runs.