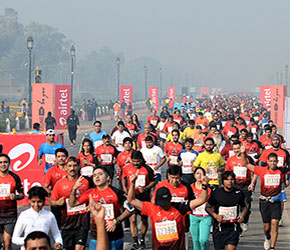 The delighting part of Airtel Half Marathon is to see people respond in the champion fashion to the charity drive associated with the event

New Delhi: It is a run for the pleasure of running. It is a run for solidarity and harmony. It is a run for an event where everyone is equal and is about getting people together regardless of caste, creed and colour. It is a run about unity and people coming together for one noble cause or the other.

Airtel Delhi Half Marathon brings thousands of people on the streets tied by a sense of commonness and togetherness where people from all age groups, run for a cause and support their brethrens from under-privileged class. The delighting part is to see people respond in the champion fashion to the charity drive associated with the marathon and this edition of the event has people in plenty with noble missions.
Take for example these six youngsters from Deepalaya, the Non- Profit Organization which believes that "Every child deserves a chance". These youths from underprivileged families will run to raise money for charitable causes. With a motive to give something back to the society, they will run to raise money for Deepalaya, through which they would like to change the lives of a few who come from a background similar to their own.

"I am participating in the marathon to raise money for slum kids, who don't have the resources to live a better life. I belong to a society where educating girls wasn't in the priority list. But Deepalaya helped me redeem my dreams. They convinced my parents and here I am -- the first from my society to be a graduate. As now I can see my future, I want others to do to same," said Vijay Laxmi, who along with five other ex-Deepalaya students, including Anand Prakash, Pradeep Kumar, Komal Rathod, Poonam and Shama Parveen are raising Rs 1 lakh each, which they plan to donate to Deepalaya.

Corroborates Shama Parveen. "My family was never keen that I continue beyond middle school. A career for me was never planned out. But I had always nurtured my dreams of studying further and stand on my own feet. My teachers at Deepalaya convinced my parents to let me pursue my dreams. Today, I feel amazing as I am doing what I want to. And all thanks to Deepalaya. So through this run I want to contribute in my own capacity so that few more lives like me can be molded for better," said Shama.

Called 'Dream Runners', the youths — who have come a long way in life with the help the NGO — want to give back something worth while to the society. Reminiscing his days of distress, Anand Prakash, who is a graduate in English from Delhi University and is pursuing his first love music from the prestigious Gandharva Mahavidlaya at Delhi, said though Delhi Half marathon, he was closer to achieving his dreams.

"My father worked on a daily wage in export factories. So finances were always a constraint. Deepalaya recognized my talent and helped me achieve my dreams. It helped me get admission in the music institute and now I even perform live shows. Through this marathon, I want to contribute in my on small way for those who are underprivileged like me," said Anand, who will be collecting Rs 1 lakh as a Dream Runner.

And these youngsters are not alone in their concern for the downtrodden. There is this 13-year-old Aashna Kaul from the Lotus Valley International School, who has already collected Rs 2 lakh for causes of her choice. Kaul has chosen to support the cause of education through her run. "I am privileged to have access to the education facilities. But there are a lot of children who are not so fortunate and I want to do something for them. I get inspiration from my parents and grandparents who are associated with charity," she said.

The response from the corporate fraternity has also doubled this year as compared to that of 2009, with 67 corporate entities coming together to field a total of 86 teams for the corporate challenge. A total of 78 NGOs have also registered themselves with Concern India Foundation, the charity partner, to raise money.

Even before the event, nearly Rs 2.75 crore has been raised for various causes, compared to the last year's collection of Rs 2.06 crore.