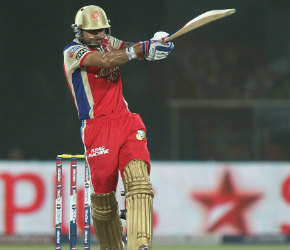 Royal Challengers Bangalore registered a comfortable win against the Chennai Super Kings after some great power packed performance from Virat Kohli and Zaheer Khan. Kohli smacked 56 runs off 29 balls that he faced and Khan jolted the CSK batting line up as he ended picking up four wickets.
Here we bring to you the heroes and the zeroes from the match between Royal Challengers Bangalore and Chennai Super Kings.
HITS
Virat Kohli: Kohli was absolutely stunning in his knock of 56 runs as he smashed four sixes and six fours. He took on the charge with his proper cricketing shots with some brutal power and made sure that RCB get past 100 in just eight overs.
Chris Gayle: Gayle was absolutely magnificent especially against Holder whom he hit for three sixes in a row. He smoked away four sixes in his knock of 28 runs off just 13 balls.
MS Dhoni: Dhoni was looking to try to pull of a win for his side but couldn't get it. He came into bat bit late which did hurt CSK's chances of winning. He score 24 off 10 balls.
Zaheer Khan: Khan was the one who pinned down CSK as he got the wicket of Hussey and Raina in his first over. He ended up picking four wickets and gave away just 17 runs.

FLOPS
Mohit Sharma: Sharma got smacked for 14 runs in the only over that he bowled. He did pick up the wicket of AB De Villiers but by that time it was too late for CSK.
AB De Villiers: De Villiers couldn't do much and got out after scoring five runs off three balls that he faced. He could have added another 10-15 runs if he would have stayed on the crease for longer.
Jason Holder: Holder was thrashed for three back-to-back sixes by Gayle which made him the worst bowler of the day as he gave away 20 runs in his only over.
RP Singh: Singh didn't contribute much as he gave away 19 runs and went wicket-less. He conceded two sixes and one four in the only over that he bowled.
Mike Hussey: Hussey didn't do well with the bat as he got out for just six runs. His wicket not only brought Raina under pressure but also made it look much more difficult for CSK.
Suresh Raina: Raina's wicket was the last nail in the coffin as he departed for duck. He lofted the very first ball that he faced which went straight into the hands of Vinay Kumar.

By Amit Chopra
Indian Sports News Network