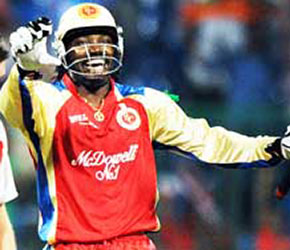 Indian Premier League has come to an end and with that ended an intense competition which witnessed some of the best matches that has ever been played in T20 history. The two-month long completion saw some great all-round display from players coming from every cricketing nation.

There were some great individual performances and some tremendous team battles. IPL-5 started with a bang and almost all the matches went down to the wire and some went down till the last ball.
The tournament saw some players making their name and stealing the limelight and it also saw some good players struggling to live up to the expectations.
There were some great batting and bowling performances and some pretty ordinary ones, let's have a look at some these performances.

Batting stars of IPL-5: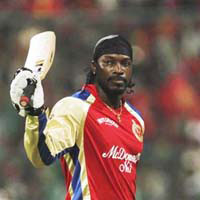 Chris Gayle (Royal Challengers Bangalore): The Calypso King was on song once again in the tournament. Gayle struggled in the first few seasons when he was playing for the Kolkata Knight Riders and went unsold after the first auction for IPL-4. Gayle was picked by RCB in place of injured Dirk Nannes in IPL-4 and since then he has been a revelation. Gayle in this season played some tremendous knocks and once again won the orange cap with 733 runs against his name. He single-handedly won RCB many matches and the day he flopped, RCB lost to the bottom placed team and missed out a chance to qualify for the playoffs. He also had the maximum number of sixes against his name with 59 sixes.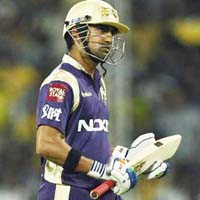 Gautam Gambhir (Kolkata Knight Riders): Gambhir surprisingly not retained by Delhi Daredevils after the first three seasons and KKR picked up this gifted batsman. Since then Gambhir has been an inspirational leader and batsmen for KKR. He played some of the best innings of this season and was the only consistent batsmen for KKR. It was Gambhir's efforts that took Kolkata to their first final. He ended as the second highest run-scorer with 590 runs. Gambhir failed in the final but that can't take away the influence he has had on the team.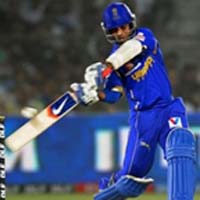 Ajinkya Rahane (Rajasthan Royals): He started the tournament as a player who promised a lot but failed when the opportunity was given to him. Rahane looked a man on the mission and played some pulsating innings in the first half of the tournament. The best thing about Rahane in the series was the way he scored his runs, he looked comfortable against almost all the bowlers and played orthodox shots and even then scored at a good pace. His form did fade a bit in the later half, but his efforts will be hard to ignore when the T20 squad will be selected for the world cup. Rahane scored 560 runs at a strike rate of 130.

AB de Villiers (Royal Challengers Bangalore): The South African captain was at his magical best in IPL-5. AB is one of the best batsmen going around in every format and he played some sensational innings in this tournament. Gayle was the most menacing batsmen from Bangalore, but AB was the most dependable one. RCB missed a trick as they played de Villiers too far down the order putting pressure on the right-hander. AB played some unbelievable innings and made batting look like a joke. He finished with 319 runs at a tremendous strike rate of 161.

Shikhar Dhawan (Deccan Chargers): This format did not suite Dhawan's style of batting, but the experienced Delhi batsman adopted well and was the third highest run-scorer of the tournament. It is a pity that his teammates did not back his good work and lost matches from winning positions. Dhawan has never looked better and some of the shots that he played against world class fast bowers were a treat to watch. He scored 569 runs at an impressive average of 40.

Batting flops from IPL-5: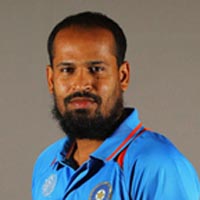 Yusuf Pathan (Kolkata Knight Riders): He was one of the biggest buys for KKR in IPL-4 and was termed as the biggest hitter in the contest. But Pathan disappointed the most. He played only one good innings from the 17 matches he played in and that is not what one expects from a player who is supposed to be the best in this format. Some of the shots that he played to get out were simply disgusting. Pathan will be very lucky if he will be picked for the India T20 squad. Pathan only scored 194 runs at an average of 19 and a pathetic strike rate of 115.

Kumar Sangakkara (Deccan Chargers): Sangakkara is one of the all-time best wicket-keeper batsmen and a lot would have been expected from this talented cricketer. But he completely failed in the tournament and could only manage one 50 plus score. Sangakkara's bad form was one of the major reasons why Deccan finished at number eighth in the points table. He scored only 200 runs in the 12 innings that he played at an average of 18.

Sourav Ganguly (Pune Warriors): No one expected Ganguly to be the most dominating player of this season, but going by the way he has performed in the previous IPLs, Pune would have expected a solid performance by their leader. Ganguy started the tournament well but both his captaincy and his batting suffered as the tournament progressed. He never looked in control and all his runs came at a very low strike rate. Ganguly this year scored 268 runs at an unbearable strike rate of 99.


Ross Taylor (Delhi Daredevils): The Kiwi captain was drafted into Delhi Daredevils from Rajasthan Royals this season but his form with the Delhi team was horrendous to say the least. He took too many balls to score and was one of the weakest links in the strong Delhi batting line up. Taylor got a number of opportunities to win the match for Delhi, but he failed every time. He scored his runs at an average of 19 and a below par strike rate of 115.

Tillakaratne Dilshan (Royal Challengers Bangalore): RCB would have expected big things from the dangerous Sri Lankan, but he failed to have an influence on the series. Dilshan scored his runs at a strike rate of 109 which is not acceptable in T20 cricket. He did score three fifties but the pace of the innings was not good.

Now let's have a look at how bowlers have performed in this IPL. Here are some of the top and the weakest performers.

Bowling stars of IPL-5:

Sunil Narine (Kolkata Knight Riders): The young West Indian made his name in what has been his biggest test in his short career. Spin bowlers in India have to be at their best and if they don't, their balls have to travel miles in the small Indian stadiums and on flat Indian tracks. But Narine was at his best in this tournament. He bowled beautifully throughout and no batsmen looked comfortable against him. He was expensive in the finals but barring that, he had an awesome outing. He took 23 wickets and his economy of 5.47 was the best in the tournament.


Morne Morkel (Delhi Daredevils): The tall South African showed why he is one of the leading fast bowlers in the world. Morkel bowled with good pace and his line and length was immaculate in most of the matches. He finished on top of the highest wicket takers list with 24 wickets and looked threatening in all his spells. His exclusion from the match against Chennai is considered to be one of the most bizarre decisions of this season.

Dale Steyn (Deccan Chargers): He is the number one Test bowler and he replicated his Test form in this year's IPL. Steyn bowled with tremendous fire and bowled some of the best spells of IPL history. His team would have done much better if he would have got the support from other end. Steyn took 18 wickets at an impressive economy rate of 6.1.

Parwinder Awana (Kings XI Punjab): He is considered to be the find of IPL-5. Awana is a consistent performer at the domestic level but none expected him to bowl the way he bowled in some of the matches. He is out an out strike bowler and played his role beautifully. Some of the spells that he bowled were simply awesome to watch from an Indian fast bowler. He took 17 wickets in the tournament.


Muttiah Muralitharan (Royal Challengers Bangalore): RCB think tank took a bold decision of dropping their captain Vettori and replaced him with Murali. The decision straight away worked for them as the spin wizard took control of the situation and did what he is famous for-outfoxing the batsmen. Murali bowled with a lot of guile and was as miserly as ever. He took 15 wickets in 10 matches and was very economical.

Bowling flops from IPL-5:

Irfan Pathan (Delhi Daredevils): He was the most experienced bowler in the Delhi Daredevils team and Sehwag would have expected Pathan to come good in the tournament. Pathan looked ordinary throughout the series and it was his batting ability that kept him in the side. Pathan took eight wickets in the 17 matches he played at an average of 58. His economy rate was 7.75 in the completion and he rarely had a good game with the ball.

Ashish Nehra (Pune Warriors): Nehra has played a lot of international cricket and Pune Warriors would have expected this experienced left-armer to have bowled well. But it didn't happen and Nehra bowled some bad spells. There were occasions when his over changed the course of the match in the opponents favor. He took 11 wickets and leaked runs at an economy rate of 8.37.


Rahul Sharma (Pune Warriors): His performance in IPL-4 was so good that he was selected into the Indian team. The same was expected from him, but it didn't happen. He was bowling quite well till the time Chris Gayle hit him for five sixes in an over. He lost his rhythm from then onwards and eventually lost his place as well. He came back into the side and was ineffective once again. He played 11 matches and picked only nine wickets. He was also expensive and gave runs at an economy rate of over eight.

Doug Bollinger (Chennai Super Kings): Bollinger played a crucial role in Chennai winning the title last year and before the tournament he announced that he wants to make a comeback into the Australian side with his performance in IPL, if that is taken into consideration he may find it difficult to find a place for a very long time. Bollinger played only six matches because of his bad bowling and out of the matches he played he took eight wickets at a bad economy rate of 8.72.

Brett Lee (Kolkata Knight Riders): He is one of the most experienced bowlers going around and was the leader of the attack for KKR in this season. He has been a world class performer over the years, but this season did not go according to plan. He was in and out of the team on the basis of some inconsistent performances. He played in the finals and once again was very expensive. In his 10 outings he took only seven wickets.

By Gaurav Jha
Indian Sports News