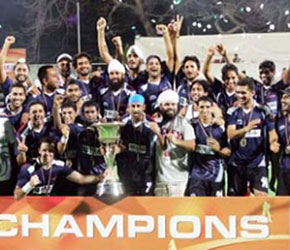 The World Series Hockey (WSH) was supposed to change the way India had started playing and treating hockey as a game off late. The tournament had everything in their favour before its start. The organisers had infused in the kind of money unheard of by hockey players, world around. They were going live on the TV which is a rarity in this country. The hockey players too were in the thick of action after qualifying for the London Olympics and the matches were played at venues which have decent support of the game. The prices of the tickets were affordable and there was sufficient buzz created before the event.
If cashed in honestly by the hockey administrators, it could have spelt a boon for the national game in which India had enjoyed an unbridled hegemony for many decades!

But that was not to be. The infighting amongst the two existing hockey bodies and self egos of a few vested interests rested with the power of taking hockey to its old glory casted a doom for tournament, which otherwise could have acted as a precursor to restoring the game back on track again.

The organisers of World Series Hockey (WSH) would have hoped for a better outcome. The much-hyped tournament which was supposed to give hockey a new dimension in this country, failed miserably for reasons beyond their control.

WSH was compared to the IPL and was expected to deliver in the same manner. It was unfair to compare the two, but still an avid hockey fan would have hoped that this initiative will take Indian hockey to a next level.


So, what went wrong? Why didn't the championship make good copies for the national dailies? Why didn't the crowd come to support the players? There are many reasons to it and Indian Sports News take tries to bring forth a few:

Rift between Hockey India and Indian Hockey Federation: The fight between these two organizations is not hidden from anyone. WSH is being organized by IHF and Nimbus with candid support of the Government of India. Hockey India did not recognize the league and made its road thorny by getting a sanction against it from the FIH as well. That prohibited the best of Indian and international players from participating in it as that would have been considered as rebellious and would have cost them a place in their national side.

National players missing from the action: For any league to succeed it has to have its best players playing in it. Spectators would have been on a high after seeing their favorite players performing so well in the Olympic qualifiers and would have hoped to see them competing in the league but that didn't happen. This is the biggest reason why the league didn't work. The reason of the national players missing from the action was because of the same old HI-IHF dispute.


No proper media coverage: Media plays a pivotal role to make any competition a success or a failure. But then media thrives on stories which benefit their cause in most cases. With FIH and HI leveling it as a rebel league and the current national and international players boycotting it on their behest, media too resorted to giving it a customary coverage. There was rarely a story about any player and even the match reports were limited to 2-3 paragraphs, unlike the IPL where most of the sports pages are being attributed to the event. So it did no good to the league.

Lacked USP: The league promised a never before like experience but failed to deliver that. The league missed reasons to pull the crowd. It failed to capture the interest of a fan. All the hype surrounding what was called a 'rebel' league didn't worked out for the league. One has to admit that the tournament was organized in good interest for the game and if it would have been properly managed that this cash-rich event could have really injected the passion missing in a hockey fan. But, the clash of the two giant organisations killed the league.

By Gaurav Jha
Indian Sports News