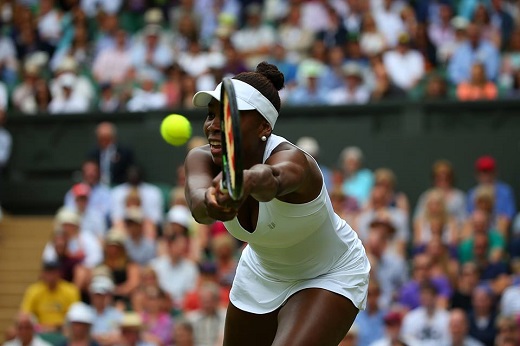 Venus Williams, when 10, hit with John McEnroe and told her dad that she could beat him. Twenty seven years later, at 37, she would have easily beaten the old Mac at Wimbledon or literally on the street for commenting that her sister Serena would not hold a ranking higher than 600 if she were to play on men's tour.
Venus played her 16th Grand Slam final and lost. In fact, Venus has lost 9 Grand Slam finals, 7 of them to her younger sibling Serena but had it not been for Sjogren's syndrome, an autoimmune disorder, Venus could have possibly been the winner of maximum number of titles ever in the women's game. That she was not destined to achieve it does not seem to deter her. Any lesser mortal would have taken the easy way out at the pretext of sudden loss of energy because of the disease but not Venus. She is made of sterner stuff, stuff so uncommon that she is probably the only one made of it. It is impossible to fathom the effort required for a top athlete to keep the energy levels high throughout a match and then having to fight a disease that drains the energy unexpectedly asks the athlete to be superhuman – well that is exactly what Venus is, out of this world.
If you need any proof of her great ability to last long in a match, all you have to do is go back to 2005 and see the Wimbledon final where she beat Lindsay Davenport 9-7 in the final set. What is amazing is that she has continued to play even after being diagnosed with the disease and at the age of 37, old enough to retire from the top level and take to commentary, she danced around the court like a teenager and made it to the finals beating much younger and keener players on the way, none more than the Johanna Konta whom she beat 6-4, 6-2 in the semi-final. Serving a rock on the second serve at breakpoint down into the body of Konta took the wind out of her younger opponent's sails and though she kept fighting edged on by the crowd behind her, the result was never in doubt. Final though turned out to be an anticlimax with Venus losing 6-0 in the second set, apparently drained out mentally and physically.
There is a lot of talk about Roger Federer having won Australian Open and Wimbledon at 36 but let us not forget Venus achievements are no less as she has made it to the finals of these two slams this year. Federer keeps inspiring millions through his feats on the court but it may very well be true that he draws inspiration from the likes of Venus who just keep going on about the usual business of coming up with extraordinary performance age notwithstanding. For athletes like Venus and Roger, age is not just a number, it is an opportunity to express themselves in a better, clearer and rather exacting manner. These two are redefining the term middle-age and Venus may just redefine greatness at the last Grand Slam of the year, the US Open in front of a raucous and partisan home crowd.