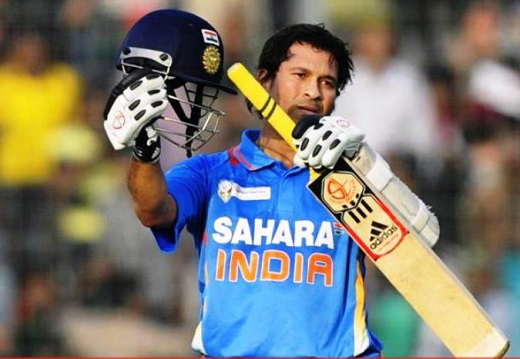 Sachin Tendulkar has been India's most successful opener in One-day International history. He had many good opening partnerships with Sourav Ganguly and Virender Sehwag. The 'Master Blaster' has contributed in many victories for India by opening the innings.
In his whole ODI career, Tendulkar batted extremely well while opening at second position. He played 293 matches and scored 13,685 runs at an average of 50.31 with his best score of 200 not out versus South Africa in Jaipur. From 49 hundreds, Sachin scored 43 and from 96 50s he had 66 to his name on this position.
Ganguly and Sehwag always relished batting with the legend at the other end. He was always a treat to watch for his opening partners and his fans.
Tendulkar and Ganugly opened in 117 matches for India. They scored 5621 runs with an average of 48.87. They shared 16 hundreds and 21 fifties stands.
With Sehwag, Sachin opened in 55 matches. They scored 2441 with an average of 44.38. They both shared nine hundreds and 10 fifties stands.
Though Ganguly and Sehwag too opened together on many occasions, they weren't that successful. As opening pair, Ganguly and Sehwag opened in 40 matches. They both shared 1593 runs between them, which included five hundreds and six fifties stands.
Some of Sachin Tendulkar opening partnerships with Ganguly and Sehwag:
Sachin Tendulkar 128 Vs Sri Lanka in Colombo on 7th July 1998: Sachin Tendulkar 128 and Saurav Ganguly's 109 gave India a start they wanted. Their 252-run opening run stand allowed India to score 307 in 50 overs. In reply, Sri Lanka fell just 6 runs short.
Sachin Tendulkar 124 not out Vs Zimbabwe at Sharjah on 13th November 1998: In Coca Cola Champions Trophy final, India won the toss and elected to field first. Indian bowlers did a very good job after restricting Zimbabwe for just 196 in 50 overs. India won that final with ease. Thanks to Sachin Tendulkar's 124 and Saurav Ganguly's 63 runs. The openers shared an unbeaten 197-run partnership to give India an excellent win.
Sachin Tendulkar 102 Vs New Zealand at Hyderabad on 15th November 2003: India crushed the Kiwis down by 145 runs. Sehwag and Sachin's 182-run stand helped India to beat the visitors. Sehwag scored 130 runs and Sachin's 102 runs helped India to build a partnership of 182 runs. Rahul Dravid scored his fastest 50 that helped India reach 353. Kiwis only managed 208 while chasing.
Sachin Tendulkar 101 Vs South Africa in Johannesburg on 5th October 2001: Sachin 101 and Sourav 124 were the only contributors in the score of 279 for the visitors. South Africa chased this total down with ease. They won this game by 6 wickets.