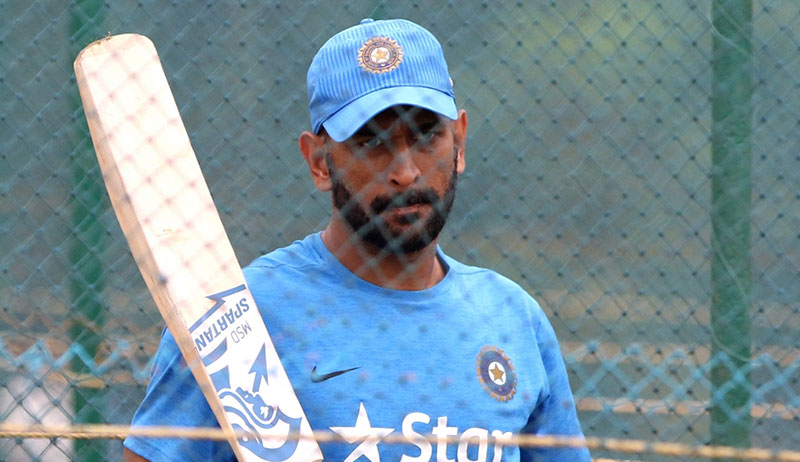 Can you imagine a cricket player who never shows his emotions on the field? I am sure your answer will be no. There is no player in cricket, not even in any sport who doesn't show his emotion during play. We often see players shouting, dancing, and jumping during a match. But there is one player in Indian cricket team who has no emotion. Can you guess who is he? Yes, you are right. The man is ex-skipper MS Dhoni.
I did not even see him changing his facial expression in any situation during the match. But it is not like that he was as same as now during his earlier days in International cricket. First, let us see that how was he in earlier days and how he changed.
In his earlier days Dhoni was not as calm as now. He had long hairs. He used to open his helmet and celebrate after completing century. I still remember his 183* knock against Sri Lanka. After India's loss in ICC WC 2007, he was handed over the captaincy of Indian cricket team for 2007 T-20 World cup. He was sent to South Africa to lead a new side with exclusion of Sachin Tendulkar, Saurav Ganguly and Rahul Dravid. It was a great challenge for him. Also it was a start of new era in Indian cricket. It was T-20, the fastest format of cricket. All other teams were new to this format except England. No one had been expecting anything from Dhoni's team. With no expectation, it gives strength to Dhoni & Co. to play with full ability. Dhoni clinches the Cup and this was the start of the Dhoni era in Indian team. From then onwards he learnt to remain calm and be kept focus on the game. After this victory he was made captain in all three formats. Then he kept winning and now he has won everything.
Dhoni has handled the pressure situations in a beautiful way. That is his strength. He keeps himself away from limelight and shine of success. He keeps himself down to earth. Dhoni is more than a cricket player. We can learn so much from this emotionless man. He showed us many times that success is temporary but character is permanent. He always stayed behind whenever the team won and gave credit to other players and came ahead whenever team the lost. Once asked about his post retirement plans, he replied that he was just an ordinary player and when he retires he would pack his bags and go away. This shows the quality of Dhoni. He said that his wish is to join army after retirement. This shows that he is very patriotic. He has respect for his country. During ICC WC 2015, when his wife gave birth to his daughter, at that time Dhoni was in Australia. He was asked by media that will he go to home. He replied that he is on national duty and everything else can wait.
Dhoni is always focused on cricket. But his other hobbies are riding bikes, football, playing games, etc. He was seen riding bikes, playing football in his free time. Now he is a father of adorable daughter also. So, he needs to give his time to his family also. He is a man of steel. He has been always cooperating with other players. He has respect for everyone. He is quite impressive.
In the end, in my view we should respect this man as he has given his everything to not only Indian cricket but to world cricket also. He should have the right to decide when he wants to retire. He is a legend now. His quotes and thoughts are taught to the management students.
We wish good luck to MS Dhoni.