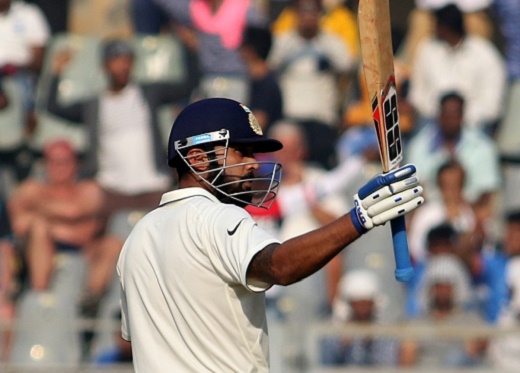 Over the past couple of years, Team India has tasted enormous success at the Test front with impressive away performances in Australia, New Zealand, South Africa and Sri Lanka. Now, having come the full circle with a string of home games to be played for the greater part of the season, we look to dissect the performances of Murali Vijay, the unsung hero whose performances have rather gone unnoticed in the wake of several mammoth efforts from Pujara and Kohli and of late, KL Rahul too.
Of late, he has been criticized by the masses for hogging the major portion of the strike and not scoring at a healthy rate. The T20 age now means the audiences expect nothing short of a striking rate of 90, definitely not the way Test cricket is played. The likes of legendary batsmen Sachin tendulkar, Rahul Dravid, Sourav Ganguly and VVS Laxman were striking in the mid 40s for a major part of their careers. That is what T20 has done to the cricketing viewers, raised the bar very high and feasted their eyes to huge scores.
Ladies and gentlemen, not to forget, this is the same Murali Vijay who belted the Rajasthan Royals bowling to notch up a 55 ball 127 to propel CSK to the top with a string of fiery and consistent performances. All he has done now is just adapt to the nature of play and not bogged down by the fancy strike rates of his peers.
Although his average is on the lower side as compared to Ajinkya Rahane, Cheteshwar Pujara and Virat Kohli, largely due to his inability to convert his 50s and 100s to those mammoth scores as his peers have managed to achieve. Despite of that, he is one of the main reasons for India's dream run with luck not favouring him on multiple occasions when he was dismissed in the nervous 90s on three occasions including a 99 at Hobart. While the rest have been sluggish and bumpy in their outings with the occasional big innings, it has been Murali Vijay who has always risen to the occasion and scored heavily for the side and bailed them out in times when the side was in a spot of bother.
Kudos to you Vijay and keep the dream run going!