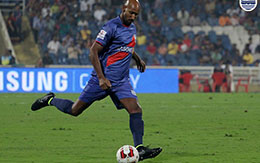 The Indian Super League (ISL) is in its third season and the way this season has progressed so far, especially the play offs, it wouldn't be an understatement to call ISL a bigger success this time around and to say that ISL has come a long way since its inception. When international football stars have made it to the ISL, many football fans in India found it extremely hard to believe that it is indeed happening in India. But there are also many drawbacks, which we must not forget and try and analyze both sides of the coin, instead of just getting blown up by the glamour that it offers.
Many are in awe of what the ISL has done to Indian football, while most people agree that landmark changes can't take place overnight, there are plenty of positives which the ISL has got on the horizon for Indian football. At the same time ISL has also been criticized saying that it is good for businesses and international players associated with the ISL and not for Indian football as such.
The biggest advantage is that ISL has been good enough to attract some big names associated with the sport and very few football fans in India would have imagined Marco Materazzi, Nicolas Anelka, Roberto Carlos and Lucio play in India and that too for Indian clubs.
The kind of exposure and learning experience the young Indian footballers will get by playing alongside them and against them will definitely help themselves evolve as a sportsman. If you play against a tougher opponent, your game skills improve and if you play against a weaker opposition, your skills would decline. These international players have provided that verystrong opposition for these Indian players which in turn is helping them learn a thing or two about world Football and what it takes to be the best.
Also, the fact that there are experienced world class coaches in the league, people who have worked with various national football teams and popular football clubs makes ISL an opportunity that brings nothing but benefits for young footballers and inspires footballing aspirants to join the game.
This means that Indian football is being pushed to something which was very unassociated with it prior to the ISL, professionalism. More care is taken of what happens before and after the match. Indian players are following diet plans, courtesy world class dieticians and physios.
Media coverage has been extensive with numbers, statistics, graphs, etc. All matches are full house, leaving aside a few, in terms of people watching live from the stadium. Some of the stadiums have been modified to be able to match international standards.
ISL has suddenly brought about a new enthusiasm among youngsters who earlier thought football has no proper career options. Now they see perhaps for the first time a viable career option in football, courtesy Indian Super League. This means more football in the junior age groups which ultimately would result in higher standards of Indian football.
Despite all these benefits of Indian Super League, some experts have criticized, is nothing more than I dare write a money-making tournament and the International stars are the only beneficiaries and as far as Indian football is concerned it is beneficiary as far as finances are concerned. People have argued that Indian Super League will never rise to the level of European Leagues, because of lack of basic infrastructure like stadiums.
Most of the stadiums are not specific to playing football alone and are used for a variety of reasons throughout the year like Ramlila, Dusshera, even marriages etc. These grounds are somehow modified during the ISL and once the ISL is over it comes back to its original self. Most of the sponsors of European League teams also have a stake in stadiums and so most stadiums have their own space for practice which is theirs throughout the year.
ISL is not doing anything for footballers at the initial or the grass root level. It only provides platform to already established players and audience moves on with it. But it is the gross root players who are the ambassadors of the sport in times to come.
For that a proper domestic circuit of football must be created which is effective as well as efficient.
While ISL is certainly the right step forward, seeing India playing in FIFA is still a distant dream and needs lot more than just ISL.