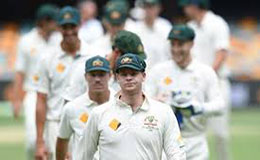 The Australian cricket team, which saw it all, which featured in the first official Test at the Melbourne Cricket Ground way back in 1877. The Australian team have played around 794 Test matches, winning 373, losing 213, drawing 206 and tying 2, which means it is the number one team in terms of win-loss ratio and win percentage.
Even in 50 overs cricket Australia has made record seven appearances in World Cup finals and won a record five world cups. The numbers are enough to suggest the kind of dominance in world cricket Australia hold. It is not for no reason at all that Aussies are known as the INVINCIBLES.
But are Aussies still INVINCIBLES, especially in Test Cricket? It is true that Australian cricket is going through a transitional period and it is the kind of phase when skipper Steven Smith is searching for the right combinations and balance to win a Test match. It is tough being Steven Smith at the moment. In the last 9 Tests, Aussies have only managed to win 3, losing 5 Tests and one ending in a draw. More than the losses what was striking was the manner in which they lost. In some Tests, Australia never seemed to be in the match and were thoroughly outplayed by the opposition a sight which is very rare in world cricket.
It is true that this Australian Team is not the same as the one having Ricky Ponting, Michael Clarke, Mathew Hayden, Justin Langer, Bret Lee, Glen McGrath, Shane Warne, Adam Gilchrist etc. but even that team wasn't made in a single night. Skipper Smith and coach Darren Lehmann have a tough job on their shoulders but not an impossible one of course. The senior players need to put their hands up and perform well, a good dressing room atmosphere must be maintained to let the youngsters feel no pressure at all because we all know that Sheffield Shield produces the best of talents and it's only a matter of application at the highest form of cricket.
World cricket has already seen the mighty West Indies in Tests deteriorate over the years. The Kangaroos must not forge ahead in the same direction.