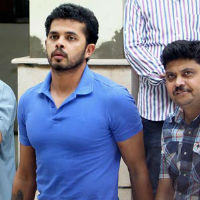 I remember cheering for him at the Holkar Cricket Stadium when he was playing for Kochi Tuskers Kerela (2011). He was fielding at third man and the stand behind him was going crazy. I was 13 years old then and kids of my age were calling him Sreesanth Chachu, there was hardly anyone who hasn't tried modelling his action on his back in street cricket. But when we heard the news I felt betrayed, perhaps a feeling that many of us shared that day.
An Indian fast bowler who bowled magical deliveries and match-winning spells, a member of two world cup winning squads, the man who could make the all-time greats doubt their ability to play fast bowling, who could swing the bowl from leg stump to hit the top of off, welcome to the world of Shanthakumaran Sreesanth- where controversies and distractions overshadow his wonderful talent...And the life ban handed to him by BCCI for his role in IPL 2013 spot-fixing controversy was the final nail in the coffin for his cricketing aspirations. It has been indeed a massive loss for Indian cricket.
S Sreesanth was born on 6th February 1983 and his initial days as a cricketer were more about leg spin bowling rather than fast bowling. He in fact modelled his action on India's leading Test Wicket taker and present coach Anil Kumble. But his ability to bowl Yorkers at will was noticed by his brother who then advised him to take up fast bowling.
Sreesanth made his first-class debut in 2002-03 and after a single excellent season in which he picked up more than 20 wickets was selected for the Duleep Trophy squad for South Zone. Not much later he was in Indian national team attire.
Talk about Sreesanth and one will instantly be reminded of his celebrations- the famous ones being letting Andrew Symonds know who is the boss in a One-Day International (ODI) in India when the Sreesanth caught and bowled Symonds. It is indeed hard to forget the man who was overawed by Andre Nel and he responded by a six over the bowler's head the very next ball. Although the six had done the talking for him but Sreesanth added to his response by dancing. His love for dancing was proven that day.
Although he always wanted to live life king size, he was forgiven many times because he could bowl unplayable deliveries. One can never forget his spell of 5 for 40 against South Africa in Johannesburg and especially his delivery to get rid of Hashim Amla was an absolute beauty. The bowl had pitched around leg stump and swung so late that he Hashim Amla at best could manage and edge to the slip cordon and that's exactly what happened. He bowled a similar delivery to Kallis and he too departed. Even the critiques could not find any flaw in that wonderful exhibition of fast bowling. It seemed, at least then, that India had finally found a fast bowling gem.
Sreesanth's career had a peculiar graph, high followed by a low then another high and amidst of course his favorite C-word controversy. He was involved in another one of those when he was allegedly slapped by Harbhajan Singh in an IPL Match. Sreesanth cried like a baby and some even criticized him for his immature behavior. But that is so typical of Sreesanth, his love for larger than life reactions. If not a cricketer, he would surely have been a good theatre artist.
His reaction after taking a wicket was mysterious to some while others found it funny. One that stands out was when Sreesanth bowled Matthew Hayden in the ICC World T20 at South Africa in 2007. He hit the pitch before sending the batsman off, these kinds of reaction by Indians were something completely new for world cricket.
Sreesanth always had a lot going on his mind before he was going to bowl. He would often talk to himself, encourage himself and had the ability to bowl a delivery which could confuse even the very greats of the game. One such instance was at Durban when he got Kallis out, now Kallis was no new comer he already had 10,000 Test runs at that point of time. Sreesanth ran in, hit the deck hard and had Kallis jumping to fend the ball. The ball just took off and was caught at gully. Such are moments worth remembering because they are so rare.
Perhaps Sreesanth's biggest enemy was he himself, the non-cricketing personality of him that led to his downfall at least in terms of his cricketing career.
Sreesanth's mentor at Warwickshire, Allan Donald told THE TELEGRAPH "Sreesanth's always had the talent; it's just that he appeared to have distractions, too… Whenever we've had a chat, I've told him that the ability he has must be translated into wickets… He's begun to do that… He's got to remember that it's up to him alone to realise his potential."
Former Indian Skipper Sourav Ganguly told in an interview to TIMES OF INDIA "For me, Sreesanth is an absolute waste of talent. When you are gifted with so much talent and you don't use it, it's pointless. What will you do for 40 lakh? It's just one Test series for him. If you get 20 wickets in three Test matches, you get double the money. If he does well in one season of IPL, he gets 10 times the money. I don't know whether he has done it or not. I don't have any proof, but whatever I have heard on TV, if he has done it, it's absolute stupidity."
Sreesanth only earned 27 Test caps and 87 wickets, but the larger question still remains what if Sreesanth had only focused on bowling his beautiful conventional out swingers, with his upright seam and perfect wrist position which would make any fast bowler envious, without any distractions.
Maybe someday if he introspects, he would believe that he owed a lot to this country. Because he was born in a country where fast bowling swing bowlers are a rarity, he could have even made it to the list of all-time greats, who knows.
But Sreesanth has moved on in life. Does he even think about introspection and stuff? Sreesanth is already busy in his new role. He is busy contesting elections from the BJP for his constituency, he is busy shooting for his upcoming malyalam movie, he is busy attending reality shows and he is still dancing not at the middle of the pitch anymore, but in a totally different setup in dancing shows.
For those of us who have followed his cricketing career, we know he wasn't made for all this. But Sreesanth is still doing what he did back in his cricketing career, living his life on his own terms, responding via larger than life reactions, and loving his theatrics and dancing skills.
To most of us, Sreesanth still remains an enigma!