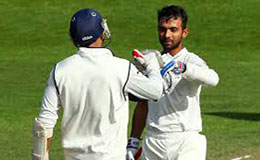 When one talks about Indian cricket and its Test match form, one is obviously awed by the way India have performed under Virat Kohli's aggressive style of captaincy after years of calm and composed leadership of MS Dhoni. India have since times immemorial been associated with its batting genius and power and always has been blessed with 3-4 world class Test batsmen in their side. In the present context, Indian Test specialists got to be the likes of Ajinkya Rahane, Cheteshwar Pujara, Murali Vijay and Virat Kohli.
Ajinkya Rahane averaging 47.33 in 55 innings; Murali Vijay averaging 39.15 in 78 innings and Cheteshwar Pujara averaging 49.89 in 70 innings are numbers that are enough to speak for themselves. In fact, Vijay in recent years has raised his game to a different level altogether and in overseas conditions Vijay along with Rahane become the backbone of India's batting order.
So, there is more often than not a direct correlation between India's and these players' success. Whenever they perform India do well and when they fail India mostly don't perform up to the mark. That makes their consistency so crucial to Team's success. Even in the on-going India-England Test Series the only time when India have been in a spot of bother was when Rahane or Vijay failed, it needed a heroic effort from India's lower order to make a match out of the situation which doesn't happen every time.
There was an era when Indian batting lineup was heavily depended on the FAB-4 – Sachin Tendulkar, Rahul Dravid, VVS Laxman, Sourav Ganguly and sometimes even Virender Sehwag. Although the era and names have changed but the FAB-4 still remains -- Vijay, Pujara, Rahane, Kohli.
India's Test success in the long run largely depends on how these players perform especially in the overseas condition because that is when the real Test would begin. A great team is one which travels good, if India want to keep up the good show in tours of England, Australia, South Africa etc, the new FAB-4 must come good. With R Ashwin and R Jadeja showing some character with the bat, it is true that they might feel a little comfortable but they shouldn't get complaisant and play the way they have.