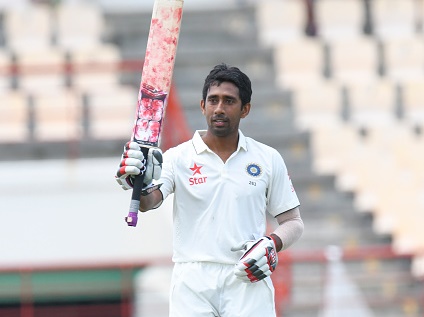 The unsung, the unknown, mystery man behind Indian cricket team's success in Test cricket is the invisible man himself. The wicket-keeping, next-gen wonder boy, Wriddhiman Saha. He played some exceptional cricket along with the lower order batsman. He took charge and made the most out of it.
He doesn't look too convincing but his stats speak for itself. He made crucial runs and mostly when India needed advantage badly. In last five innings that he has played, he scored 104, 14, 0, 54* and 58* respectively. Not only that, his record in 2016 has been far better than most of the wicket keepers currently playing for their respective countries. He averages 63.40 in year 2016 and the season is still going.
His last two knocks came against New Zealand where he made game changing contributions and stayed not out as well. Along with Ravichandran ashwin, Ravindra Jadeja and Rohit Sharma, he can contribute more and change the games in his captain's favor.
His technique is solid, he plays spin as well as pace, he has the potential to score quick runs and most importantly, he has the temperament to make the tail wag. A good lower order batsman knows the importance of giving confidence to the other batsman. He does his hard work silently but his importance cannot be belittled.
By Zeeshan Parvez