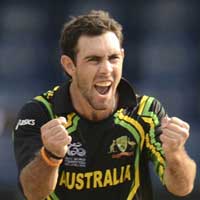 Like every year, 2016 will be also see the emergence of some new talents while some will go into oblivion. But there are also a few talented players who despite the capabilities and brilliance they possess, have failed to perform to their potential. The coming months will therefore prove to be crucial for them. Here we bring before you a few names who will have a crucial year with regard to their career ahead.
Umar Akmal

With the T20 World Cup on the horizon, Umar Akmal has a great stage to fulfill the promise he showed when he burst onto the international stage in 2009.
Since then, the 25-year-old has had plenty of ups and downs, but despite posting decent numbers—he averages 35.82 in Test cricket—he's currently only a regular in Pakistan's T20 side, mainly thanks to Sarfaraz Ahmed, who doesn't seem to be going anywhere soon.
But with his sumptuous timing and wide array of shots, if Akmal can produce some significant scores, his country could certainly make way for youth in an often veteran-heavy batting line up.
Jos Butler

Not long ago, Jos Butler was seen as his country's top wicketkeeper in all three formats of cricket for many years to come. However, the 25-year-old's form and confidence nosedived during the Ashes, culminating in Jonny Bairstow taking the gloves for the Tests in South Africa.
Butler needs a big T20 World Cup and then a good IPL to help get his game firing on all cylinders on

Dinesh Chandimal

He was "the next big thing" when he broke on to the scene, and as evidenced by an average of over 45 in Test cricket, he can play. The 26-year-old has even captained his country's T20 side on occasion. However, Chandimal still has plenty of doubts and lackluster statistics, such as his run-a-ball T20I strike rate. Furthermore, he's only scored one of his five Test centuries overseas. A strong year, including plenty of runs in the World Cup and on Sri Lanka's tour of England, would do this talented performer's confidence no harm at all.
Glenn Maxwell

The big question for the Big Show is whether he's happy being seen as a white-ball mercenary or if he's going to become an accomplished cross-format cricketer? He still has time on his side and possesses enough natural talent; however, he hasn't played a five-day game for his country since 2014. And doubts remain that the 27-year-old has the necessary application and patience to occupy the crease and also chip in with wickets against quality attacks. But with the T20 World Cup an ideal launching pad, can Maxwell put his name back in contention.
By Pranav Ahuja