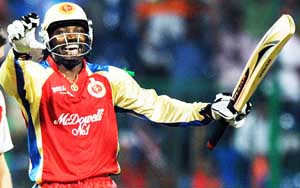 With IPL just round the corner, Indian fans will again see the best talent around the world play on Indian soil. IPL throws all the show stoppers from world cricket in our own backyard. Here is the list of the international batsmen and bowlers who will take the centre stage once again to win the heart of the millions of fans.

BATSMEN

Chris Gayle: The calypso king took Bangalore single handedly to the finals of the last year edition. He tormented every team and every bowler that came his way last year and will look to continue from where he left. He was the leading run-scorer and was the winner of the orange cup. He also hit the maximum number of sixes. Royal Challengers Bangalore will be hoping for the same performance from this West Indian sensation.

David Warner: This pocket sized dynamite will open the innings for the Delhi team again and going by his current form there won't be any bowler who will be lining up to ball to this Aussie batsman. Warner has a strike rate around 130 and will be raring to go. He has played some sensational innings in the recent past be it in Tests or ODI's and will be a treat to watch when he will take the centre-stage in the format most suited to his style of batting.

Shane Watson: Shane Watson came of age in the first edition of this tournament under the captaincy of Shane Warne. Watson played the pivotal role in Rajasthan winning the inaugural IPL and once again all eyes will be on him to deliver the goods once again. He is one of the leading all-rounder in world cricket, but it is his batting that can torment any bowling attack. His big built and his hard hitting can give any bowlers nightmares. 

Adam Gilchrist: Former Australian opener will captain the Punjab side and is the most dominant player in their side. Gilchrist coming out to bat is a sight in itself and over the years he has proven his worth no matter what team he represents. He has been thrashing bowlers from the moment he made his debut and with him retired and relaxed will give any teams jitters. The smashing left hander took Deccan Chargers to the title and will be looking to do the same with the Punjab team.

Jacques Kallis: He may not be the most attacking batsman going around but he surely is the most consistent one. Kallis has always been in the list of  the top run getters in IPL's and will be looking forward to continue his great run. He paces his innings brilliantly and believes in building partnerships. Any team playing against Kolkata will know that they will have to get this gifted batsman out to make in-roads in their batting line-up. 

BOWLERS

Lasith Malinga: He was the winner of the purple cap in the last year's edition. He balls the deadlies Yorkers in the game and has a lethal combination of change of pace and a very effective bouncer. Malinga was the sole reason why Mumbai won the Champions League last year and his variation can be mighty effective this year as well. He has been struggling at the International arena and would be raring to go in his favorite format. Malinga is the most dangerous bowler on display this year and batsmen will have to be on their toes to cope up with him.

Dale Steyn: He is the number one Test bowler and has a dream action for swing bowling. His swing bowling can bamboozle any batsman and the pace with which he bowls is nightmarish for a batsmen. Steyn has still not proven his worth in IPL and would be charged up to change that. Deccan Chargers will want this bowler to come good because this South African lad can change the course of a game on his own.

Brett Lee: He is presently one of the most experienced fast bowler going around in the world. Lee has stopped playing Test cricket and is only focusing on the shorter version of the game. Lee has one of the coolest head when it comes down to bowling at crucial stages and more often than not he delivers for his team. He is the best user of the slower-ball-bouncer and would be waiting to play in front of what he says is his favorite crowd.

Doug Bollinger: Bollinger's story has been one of the most successful stories in IPL. Whenever he has dawned Chennai's colors he has played well. MS Dhoni never drops him and uses him at critical stages. Bollinger has a steep bouncer and changes the pace very well.

Daniel Vettori: Royal Challenger Bangalore's captain has one of the best economy rate in this version of the game. He rarely misses his mark and always perform well under pressure. His batting has come of age and has been considered as one of the best spin bowling all-rounder. He is considered as the best left arm spinner and has tremendous guile in his bowling. There are times when this spin genius literally plays with the opponent batsmen and deceives them with his change in pace and flight.

By Gaurav Jha
Indian Sports News