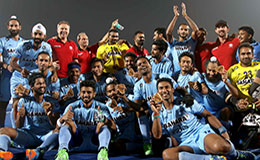 Raipur: A brace by Rupinderpal Singh followed by shoot-out heroics of goalkeeper PR Sreejesh helped India beat Netherlands to win the bronze medal at the Hero Hockey World League Final 2015 here on Sunday.

A huge crowd witnessed Rupinder score twice in the contest but it was Sreejesh whose astounding performance beneath the bar gave Asian champions India victory in as one of the best games of the tournament.

The Netherlands, Hockey World League champions in 2013, were the dominant force in the first two quarters, with Mirco Pruijser opening the scoring before Niek Van Der Schoot's backhand effort into the roof of the net doubled the advantage ahead of half time.


India came out fighting after the break and scored three times without reply to take the lead, with Ramandeep Singh netting twice either side of a Rupinder Pal Singh penalty corner before Mink van der Weerden made the score 3-3 with six minutes remaining. Remarkably four goals arrived in the final stages, with Rupinder and Akashdeep Singh giving India a 5-3 lead before Van der Weerden completed his hat-trick with a late double to force a shootout.

Sreejesh forced errors from Jeroen Hertzberger, Mirco Pruijser and Valentin Verga, with Birendra Lakra, Sardar Singh and Rupinder – who netted a penalty stroke after Manpreet Singh was fouled in the shoot-out – all scoring to seal a famous victory for the home favourites.

"The way that we have played this tournament - and it didn't work out every time - we have shown that we are a serious competitor at international top level events and that is fantastic for the team", said delighted India Head Coach Roelant Oltmans after the match. "At the same time, we still made mistakes that can cost you games, but luckily today it didn't cost us the game, thanks maybe to these two guys next to me", referring to goalkeeper Sreejesh and team captain Sardar Singh.

"These two guys played an outstanding game, as well as a few others. After the break we were able to change the game completely. We changed quite a number of things at half time and the way the team translated that into the second half was outstanding."

Netherlands Head Coach Max Caldas said: "We didn't match India's desperation in the match, and every miss-trap was punished and every tackle was punished. We lost the chance to put ourselves in a better position much earlier in the game. In the end if you are controlling the game easily, at 2-0 up, and then controlling the shootout, then I think you deserve to lose. India won because they were better than us, in the end."
Hero Man of the Match: Manpreet Singh (IND).