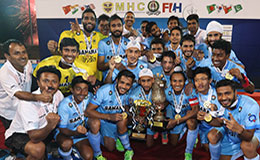 New Delhi: Hockey India, the apex body for hockey in India announced a cash prize of Rs 1 lakh each for the players and the head coach and a cash prize of Rs 50,000 for the remaining coaches and support staff on account of the win at the 8th Junior Men's Asia Cup.
Additional prizes of Rs 1 Lakh each were announced for Harmanpreet Singh the Highest Scorer of the Tournament and Vikas Dahiya the Best Goalkeeper.
India defeated Pakistan by 6-2 in a scintillating performance to lift the cup. Harmanpreet Singh was awarded the Leading Scorer of the Tournament with 15 goals to his name and Vikas Dahiya was awarded the Best Goalkeeper of the Tournament.
Hockey India, President, Dr. Narinder Dhurv Batra said, "It is a proud moment for all of us. I congratulate the players, the coaches and the support staff for their hard work and dedication. The lifting of the 8th Junior Men's Asia Cup is a testimony to their caliber and passion for the game. This win will give the team confidence and they should only go from strength to strength from here. I wish the boys the very best for a promising future."